How to make lobster mushroom ravioli with homemade pasta noodles!
This is a gourmet meal that is sure to impress! It is one of my favorite lobster mushroom recipes and you'll be left with leftover lobster mushroom oil- a delicious component!
Elevate Your Culinary Journey with Lobster Mushroom Confit Ravioli!

Create your ravioli by making a lobster mushroom confit, make homemade pasta dough, then fill the pasta with the lobster mushroom confit with cheese, and then coat it in a rich lemon sauce!
Discover an extraordinary culinary adventure through the tantalizing Lobster Mushroom Confit Ravioli! This recipe marries the wild essence of lobster mushrooms, the artistry of homemade ravioli crafting, and the enchanting use of leftover lobster mushroom oil. Prepare for a symphony of flavors that'll redefine your cooking and showcase your culinary prowess!
This is a dinner to impress!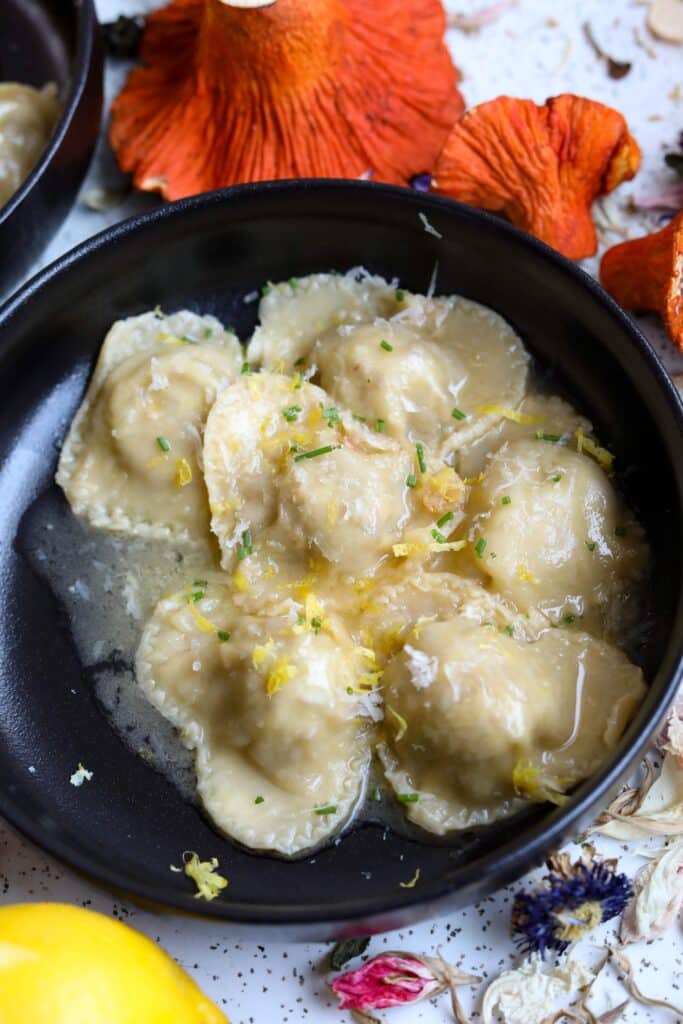 Unveiling Nature's Delight: Lobster Mushroom Magic
Begin by acquainting yourself with the wild lobster mushroom! Its vibrant orange hue and captivating flavor, reminiscent of both lobster and truffles, make it a treasure waiting to be explored in your kitchen.

Lobster mushrooms are a wild mushroom that are in season from mid summer through mid to early fall. They grow in the PNW, through the rocky mountains, the east coast, and throughout Middle America.

Since these mushrooms are seasonal and don't grow everywhere, consider ordering some dried lobster mushrooms to make this meal!

Just rehydrate the mushrooms before cooking into the oil.
Fresh lobster mushrooms are more flavorful compared to dried mushrooms, but don't let that stop you! Dried lobster mushrooms are still delicious and make it so you can enjoy recipes like this year-round.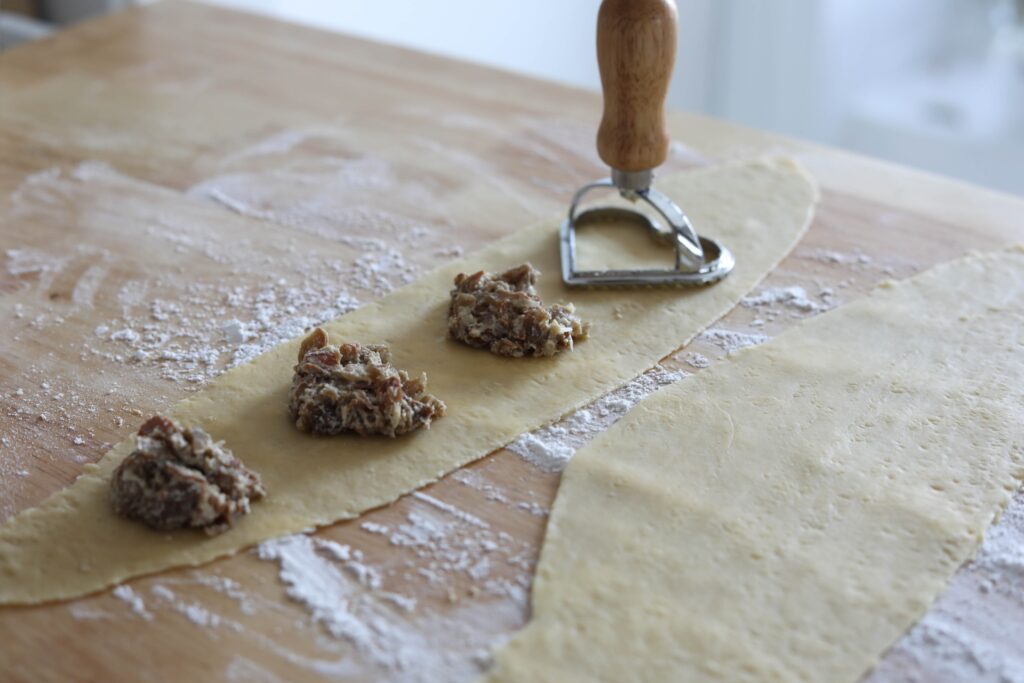 Crafting Homemade Ravioli: Masterful Tips
Step into the role of a pasta maestro as you embark on crafting your own ravioli dough! Whether you opt for the versatility of all-purpose flour or the finesse of 00 pasta flour, striking the right balance of texture and flavor is key.

Here are some masterful tips to guide you:
Create a well in the center of your flour, ensuring it's large enough to accommodate the water and lobster mushroom oil. This step aids in proper mixing and hydration.
Add water gradually while mixing to achieve the desired dough consistency. Adjust the quantity slightly if needed, as humidity levels can impact flour absorption.
Knead the dough until it becomes a homogenous mixture, enhancing its elasticity and workability. A smooth and elastic dough is easier to roll out later.
Allow the dough to rest for 30 minutes. This crucial step improves its elasticity, making it more pliable and easier to shape.
When rolling out the dough, dust your surface with semolina flour or your preferred starch to prevent sticking. This makes handling the dough smoother and more efficient.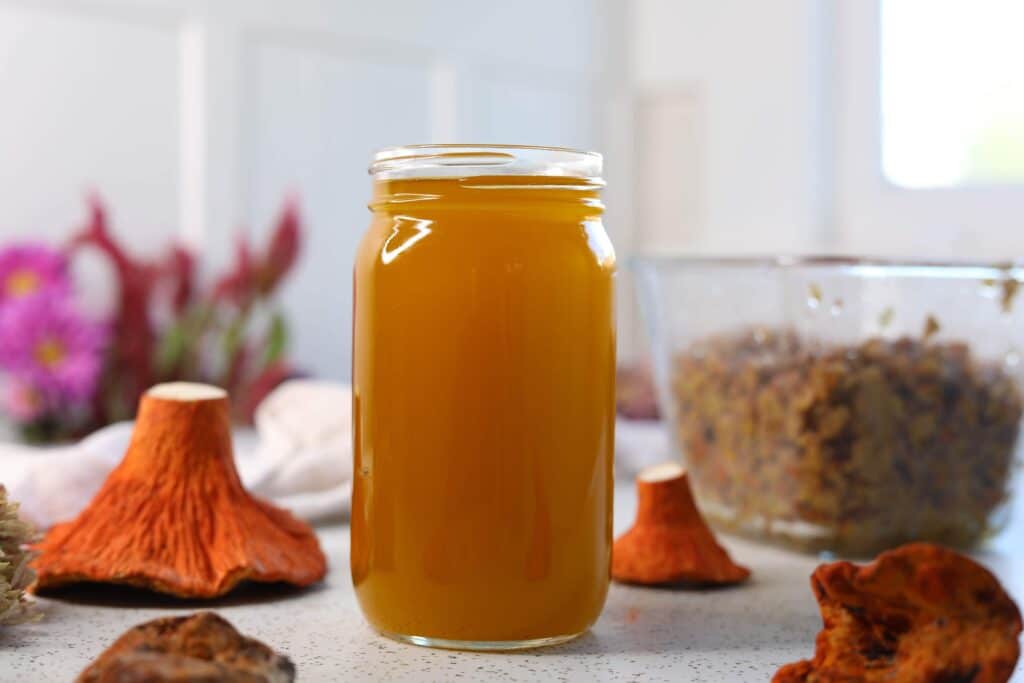 Liquid Gold: Lobster Mushroom Oil
Elevate your culinary creations with lobster mushroom oil, a product of infusing wild lobster mushrooms in oil. This liquid gold holds the essence of the lobster mushroom and has the power to transform any dish into a masterpiece. Drizzle it over pasta, enrich bisques, or experiment with cheese making to unleash its versatile flavor-enhancing properties.
Whenever lobster mushrooms are in season- do yourself a favor and make this oil! It stores well in the freezer and adds so much depth and 'omph!' to all your recipes.
Savor the Symphony: A Culinary Exploration
Prepare to be enraptured by the Lobster Mushroom Confit Ravioli experience as it dances on your taste buds. Arrange the ravioli on a plate, generously coated in the exquisite Lemon Lobster Mushroom Sauce. Complete the sensory delight with grated Parmesan, finely minced chives, lemon zest, and a sprinkle of black pepper.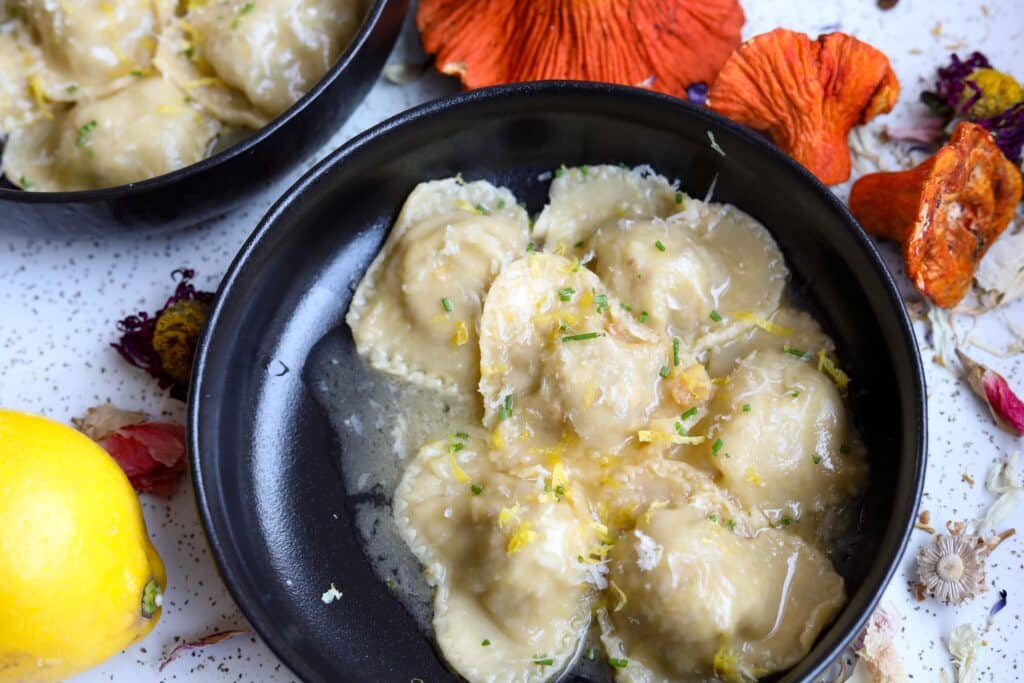 Elevate Your Culinary Game
The Lobster Mushroom Confit Ravioli isn't just a recipe; it's an invitation to elevate your culinary journey. Combining the wild charm of lobster mushrooms, the finesse of homemade pasta crafting, and the allure of lobster mushroom oil, this experience transcends the ordinary. Immerse yourself in the Lobster Mushroom Confit Ravioli adventure and witness your culinary prowess unfold in each delectable bite!
Looking for Other Lobster Mushroom Recipes?
Lobster Mushroom Ravioli
Discover an extraordinary culinary adventure through the tantalizing Lobster Mushroom Confit Ravioli! This recipe marries the wild essence of lobster mushrooms, the artistry of homemade ravioli crafting, and the enchanting use of leftover lobster mushroom oil. Prepare for a symphony of flavors that'll redefine your cooking and showcase your culinary prowess!
This is a dinner to impress!
Print Recipe
Ingredients
Lobster Mushroom Confit (lobster mushroom butter & filling base)
8

oz

Lobster Mushrooms

8

oz

Coconut Oil

Olive Oil, Avocado Oil, or Butter also works here

1

Bay Leaf

2

Cloves

Garlic

1

Shallot

Optional
Ravioli Dough
2¼

Cup

00 Flour

Or All Purpose Flour if you don't have access to 00 pasta flour

¾

Cup

Water

or aquafaba

2

tbs

Lobster Mushroom Oil

(From Confit)

½

tsp

Sea Salt

¼

Cup

Semolina Flour

For dusting your surfaces, or use starch of choice like tapioca, rice, wheat, or corn
Lemon Lobster Mushroom Sauce
¼

Cup

Lobster Mushroom Oil

(from confit)

2

Cloves

Garlic

crushed and minced

½

Large

Lemon

Juiced
Garnishes
1

Large

Lemon

Zest

2

tbs

Parmesan Cheese

Finely Grated

2

tbs

Chives

Minced

1

Pinch

Black Pepper
Instructions
Lobster Mushroom Filling and Butter
Crush two cloves of garlic, remove their peels, finely mince.

Finely mince the shallot, clean the lobster mushroom, then finely chop them.

Add the garlic, shallot, and lobster mushroom to a saucepan, oven safe container, or Instant Pot

(this step can be done on the stove, in the oven, or in an instant pot)

Cover with enough oil to completely cover everything, using a smaller container or pot will allow you to use less oil. 3/4 cup oil was enough to cover the oil in my saucepan, you might need more or can use less. You don't want anything exposed or it risks drying out. Too much oil and you'll have a diluted tasting lobster mushroom oil.

Stove Directions: Bring to a simmer, then reduce to the low simmer where it barely bubbles at all. Cover and let cook for 45 minutes Oven Directions: Bake in the oven at 250F for 1 hourInstant Pot Directions: Add to your instant pot and cook on slow cook for 1 hour
Pasta Dough
While the lobster mushrooms are cooking….

Add your 2 ¼ cup flour and ½ tsp of sea salt to a large, cleaned surface and create a large well in the center of the flour. (a big enough hole to hold the water)

Pour in the ¾ cup water and 2 tbs lobster mushroom oil (what you strained in the last step).

Slowly mix the water and oil to the flour, then proceeding to knead the dough as it comes together. The dough will be shaggy and dry, knead it to be a homogenous mixture to the best of your ability.

Let rest for 30 minutes (it will become elastic and more workable at this point)
Ravioli Filling
Once the Lobster Mushrooms have cooked use a thin mesh strainer to stain the solids from the oil.

Save both the lobster mushroom oil and the cooked lobster mushroom mixture

While your dough is resting, add lobster mushroom solids to a medium sized bowl. Add in the your favorite brand of nondairy parmesan cheese and cream cheese. Mix
Rolling out the Noodles
You can use either a pasta roller* or you can use a rolling pin to roll your dough out here.

Clean a large flat surface and then dust with semolina flour or starch- this helps prevent the noodles from sticking. Any starch works like corn, tapioca, rice, wheat, ect

To Use a Pasta Roller, add the dough in batches. Add about 1/4 of the dough to your pasta roller and start on the thickest setting. Run it through two times before bringing it to the next level of thinness. Bring it to about level 4 and lay out onto your prepared surfaceTo Use a Rolling Pin, Divid the dough into 4 wads. Roll out each wad of dough to be as thin as possible while remaining in long rectangle. Roll it out to the thinness where you can see light through the sheet of pasta when you hold it up.
Forming the Ravioli
Lay out your long noodles and add about 1 tablespoon worth of the ravioli filling about every 3 inches in a long row.

Lay another sheet of pasta over the pasta with filling. Using your hands gently press around where the filling is to encase it.

Using a ravioli press, or a any cup*, press out raviolis out of the dough

At this point you take your scrap dough and roll it out into another sheet and continue the process of making more raviolis- do this until your filling is used up
Cooking the Pasta
Bring a large pot of water to a boil

Add in about 1 tablespoon of salt and then add the raviolis

Boil until the pasta floats

Reserve 2 tablespoons of the pasta water

In sauce pan melt ¼ cup worth of the lobster mushroom oil and add the garlic. Cook for 3-5 minutes on medium heat until the garlic is toasted

Remove the pan from heat and add in the lemon juice, pasta water, and the raviolis, toss for an even coating. Add salt to taste

Once plated garnish with more parmesan, zest of a lemon, and minced chives
Notes
Ravioli Filling- Don't want to use cream cheese? 
I encourage you to try making or buying your favorite plant based cream cheese since it adds a tangy creaminess that is lovely with this pasta. However if you are short on time or have a limited budget you can make substitutions. Try this recipe with silken tofu, coconut cream, or make your own nut cream in place of the cream cheese!
The goal for this pasta is to add a creaminess to the lobster mushroom filling. 
If blending a nut or seed consider adding a pinch of salt and nutritional yeast. Blend it up with enough water for it to become smooth- but not so much that it is runny. You want a thick and smooth texture! 
Choose a high fat nut for best results: 
High Fat Nuts:  Hazelnuts, Cashews, Brazil Nuts, Macadamia, Walnuts
For a low fat and high protein option you can use silken tofu. 
It's not recommended to use sunflower seeds or hemp seeds here as the flavors are not neutral enough and compete with the lobster mushroom.
Rolling Pin Vs Pasta Roller
You will have the most consistent results if you use a pasta roller vs a rolling pin. 
Pasta Cutter vs Cup
If you don't have a ravioli cutter you can use any old cup to cut out the ravioli shapes! 
---
Nutrition
Calories:

503

kcal

|

Carbohydrates:

66

g

|

Protein:

13

g

|

Fat:

21

g

|

Saturated Fat:

16

g

|

Polyunsaturated Fat:

1

g

|

Monounsaturated Fat:

3

g

|

Cholesterol:

18

mg

|

Sodium:

423

mg

|

Potassium:

337

mg

|

Fiber:

3

g

|

Sugar:

2

g

|

Vitamin A:

305

IU

|

Vitamin C:

4

mg

|

Calcium:

98

mg

|

Iron:

4

mg

Did you try this recipe?
Please take a moment to rate and review it!

Looking for more recipe inspiration?

By