Maple Balsamic Ketchup is Quick, Easy, Gourmet Flavor!
Of all the homemade ketchup recipes I've tried- this one is my personal favorite.
It is slightly sweet, smoky, and full of flavor!
Why settle for mediocre store bought ketchup when you can easily dress up your burger and fries into a culinary delight?!
Making ketchup at home is a great way to have more control over your health. Unfortunately many ketchups you find at the grocery stores are loaded with preservatives, artificial sweeteners, food dyes, and are high in sodium. Most of them are also in plastic bottles- which is not sustainable. Less than 70% of plastics actually get recycled, the best way we can help the planet is to refuse plastic products!
Better Flavor, Better for your Health, Better for the Planet-
Lets make some homemade ketchup!

I love it with my rainbow fries, on burgers, or as a base for homemade bbq sauce. It is super quick to make, all you have to do is combine the ingredients to mix- so easy!
To help make the maple flavor really come through you are going to want to use a dark maple syrup. The lighter variations of maple syrup add sweetness but lack the strong maple flavor, otherwise the balsamic flavor will overpower the ketchup.
To learn more about the differences in types of maple syrup check out this helpful article that really goes into it!
I personally love using darker maple syrup because it contains iron and calcium. The light maple syrup works wonderfully as a general sweetener with a very mild maple flavor (I like to use it in place of agave or honey whenever I have it on hand), however it does not have iron or calcium in it.
Variations To Try
A fun variation you can try with this recipe is swapping out the balsamic vinegar with apple cider vinegar. Then swap out the maple syrup for apple syrup (sold at many vegan markets). Apple syrup is commonly marketed as vegan honey, however there is a strong apple flavor. It doesn't taste like honey but has the same look and texture as honey. That being said, it is amazing paired with apple cider vinegar, and smoked apple salt- creating a smoky apple ketchup!
Try this ketchup with some Kentucky Fried Hen of The Woods!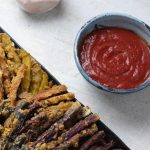 Maple Balsamic Ketchup
Gourmet Ketchup with sweet smoky flavors of Balsamic and Maple.
Use this Maple Balsamic Ketchup as a base for your BBQ sauce, spread over burgers, or slathered over fries.
Print Recipe
Ingredients
2

6 ounce cans

Tomato Paste

2/3

cup

Filtered Water

1/3

cup

Balsamic Vinegar

1/4

cup

Dark Maple Syrup

2

tsp

Apple Smoked Salt

1

tsp

Garlic Powder
Instructions
Whisk all the ingredients together in a bowl

Store in an air tight jar Keep refrigerated for up to 3-4 months Add more water as it ages and dehydrates
Video
Notes
If you don't have smoked salt replace with sea salt and add three drops of liquid smoke. A little liquid smoke goes a long way!
Try to use dark maple syrup for a stronger maple flavor, to have a milder maple flavor use light maple
Grade A for a light flavor, Grade B for a more intense flavor
Nutrition
Check out more plant based, foraged, home grown, seasonal recipes and zero waste tips…
By