This vegan rhubarb cake with a hint of ginger is a sweet and moist treat that celebrates the bright flavors of summer! The base of the cake is loaded with chunks of rhubarb, then topped with a gingery rhubarb mixture that gives it a bright bite!
This simple cake recipe is perfect for summer picnics and late spring tea parties! This is the cake for the rhubarb and ginger lover- it's sweet, with bits of tart, in a soft and moist cake.
This vegan rhubarb ginger crumb cake is tangy, yet sweet. This bright cake is the perfect way to celebrate summer! Made with simple ingredients that are found in everyone's pantry, this is a cake that is perfect for sharing.
Looking for more vegan rhubarb recipes? Try this Rhubarb Streusel Banana Bread!

The Ginger Rhubarb Cake You've Been Looking For
This recipe doesn't use weird egg replacements and uses basic ingredients you already have in your pantry.
This is the perfect recipe to whip up under short notice since you'll have the ingredients at home- ready to go!
What You Need
To make this vegan rhubarb cake you'll need a cake pan- a round 9-inch pan is perfect for this! If you use another size cake pan, you'll need to adjust your overall cook time. If you use a larger 10 inch pan the cook time will need to be reduced. If you choose to use a smaller but taller cake pan for this, you'll need to increase the bake time.
For best results that follow this recipe try to stick with a 9-inch pan!
Since this recipe uses ginger to help give this cake balance, you'll want to have either fresh or frozen ginger. Grate it with a micro plane grater (like a zester) to make it extra fine. Frozen ginger grates much better than fresh ginger (frozen ginger also stores much better than in the refrigerator)!
You can use either fresh or frozen rhubarb for this recipe. If you use frozen rhubarb, take it out of the freezer and allow it to fully defrost before using it. If you try to bake with frozen rhubarb, it will take much longer to cook.
This recipe calls for soy milk, but any type of plant-based milk will work.
Soy milk is recommended where it curdles unlike many other plant milks. It is also higher in protein than most milks which can help improve the cake's overall structure. You will have a fluffier and lighter cake if you use soy milk compared to a lower protein milk like almond or oat. The protein helps the cake keep its shape as it rises, where a lower protein milk will not offer that same support leading to a denser cake. Which is still delicious- however it will feel moister and heavier.
For the crumb portion of this ginger rhubarb cake, you will need a butter. I linked in the ingredients to a plant-based butter that I like, Miyoko's. You can use any brand of butter you prefer! I've also had good results with Earth Balance. Flavor wise I prefer Miyoko's, but Earth Balance is a great budget option. (I'm not sponsored in any way; these are my opinions!)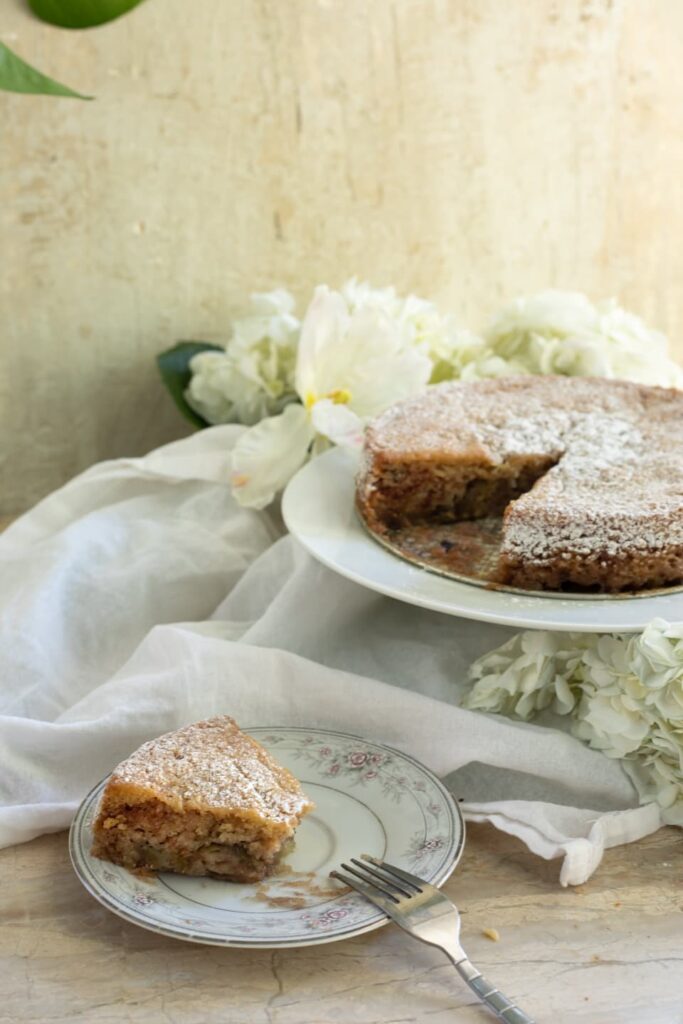 How to Make a Rhubarb Cake with No Eggs
This cake recipe is very simple! The best part is that is made with simple ingredients that most kitchens will have.

To start you'll add mix your dry ingredients in a medium sized bowl. Using a sifter is ideal to ensure there are no clumps and everything mixes together correctly. A fine mesh strainer works great as a sifter! Another way to help prevent clumps is to mix the dry ingredients with a whisk.
Then a large bowl you'll mix together all the wet ingredients- including the grated ginger. You don't need a stand mixer for this, a quick stir to incorporate everything is all you need.

From there you'll add the dry ingredients to the wet ingredients to create batter. Once everything is stirred together you'll add in the chopped rhubarb and then pour everything into you cake pan.
Once everything is in the cake pan you'll start making the crumble topping. You'll mash cold butter with a fork into the flour sugar mixture with minced rhubarb. You need the rhubarb to be minced into small pieces so it can mix in with the flour sugar mixture.
From there you'll evenly sprinkle the mixture over the cake. Don't worry if you have too big of clumps over the top- it'll all melt into the cake.
Love Baking?
If you are obsessed with cakes, you might like these Strawberry Rose Cupcakes! They are a sweet floral treat that is made for sharing! This Peach Streusel Coffee Cake is another cake recipe that is perfect for afternoon tea!
Another fruity treat is these Blackberry Lavender Muffins– they are the perfect balance of fruity and floral.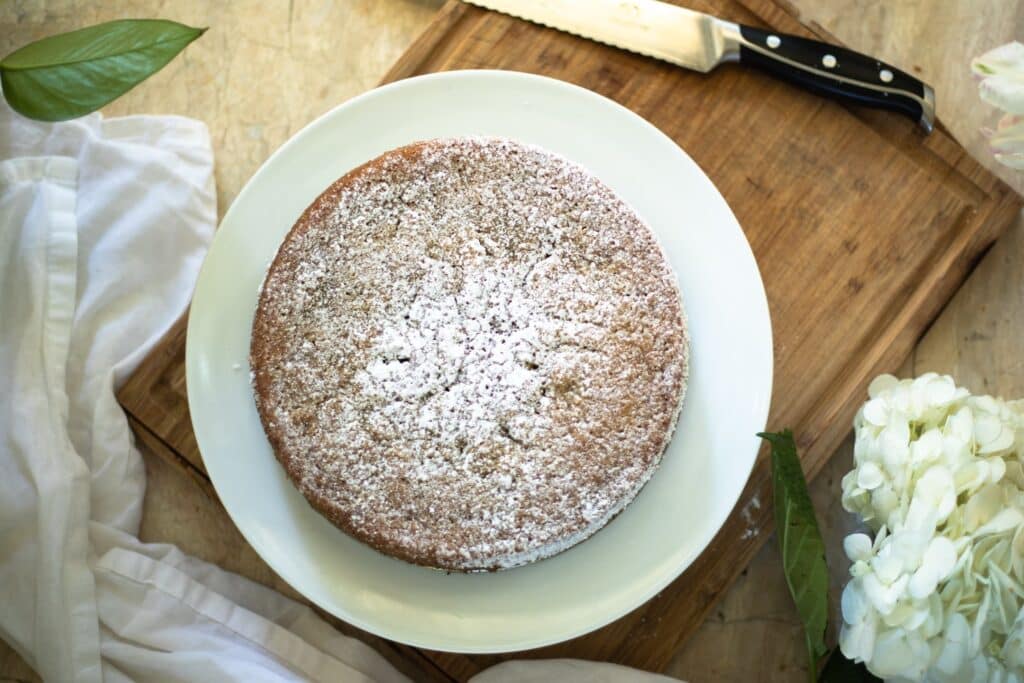 Vegan Rhubarb Cake
This vegan rhubarb ginger crumb cake is tangy, yet sweet. This bright cake is the perfect way to celebrate summer! Made with simple ingredients that are found in everyone's pantry, this is a cake that is perfect for sharing.
Print Recipe
Instructions
Rhubarb Cake Base
In a medium bowl sift the flour, then add baking soda, salt, and the sugar. Mix and set aside

In a large bowl whisk together the oil, milk, vinegar, lemon juice, and ginger

Stir in the flour mixture into the wet mixture, then add in the rhubarb, mix until combined

Pour batter into an 8×8 cake pan
Crumb
In a small bowl combine the 1/4 cup flour, 1/4 cup sugar, and 2 tsp grated ginger

Mix until evenly distributed, then add the butter, using a fork to mash into the flour mixture. Once evenly distributed add the chopped 1/4 cup rhubarb

Sprinkle over the batter in the cake pan

Bake in the Oven for 53-55 minutes

Place on a cooling rack once it passes the toothpick test*

Once the cake is fully cooled, dust with powdered sugar
Video
Nutrition
Calories:

350

kcal

|

Carbohydrates:

54

g

|

Protein:

5

g

|

Fat:

13

g

|

Saturated Fat:

3

g

|

Polyunsaturated Fat:

3

g

|

Monounsaturated Fat:

7

g

|

Trans Fat:

0.2

g

|

Cholesterol:

8

mg

|

Sodium:

390

mg

|

Potassium:

140

mg

|

Fiber:

1

g

|

Sugar:

26

g

|

Vitamin A:

223

IU

|

Vitamin C:

4

mg

|

Calcium:

64

mg

|

Iron:

2

mg

Love this recipe? Share a review so others know how it went!

Looking for more recipe inspiration?
Here's the latest:

By