This blueberry sourdough focaccia is bursting with berry flavor! This sweet focaccia bread has a caramelized bottom from the fruit yet the bread itself is soft and tender. This focaccia is a wonderful, sweet treat that can be part of a healthy breakfast, or a quick afternoon treat.
This is the recipe for sourdough baking addicts- it adds a fruity twist on the classic focaccia bread! This is also a fantastic recipe for anyone who has extra blueberries that are on the older side. Blueberry bread like this is a great way to use up your blueberry harvest- it's one of my personal favorite blueberry recipes!
This blueberry sourdough focaccia is loaded with blueberries, the juice from the berries creates this crunchy caramel at the base of the focaccia. It's sweet, it's juicy, it's crunchy, and has that sourdough flavor that balances everything out.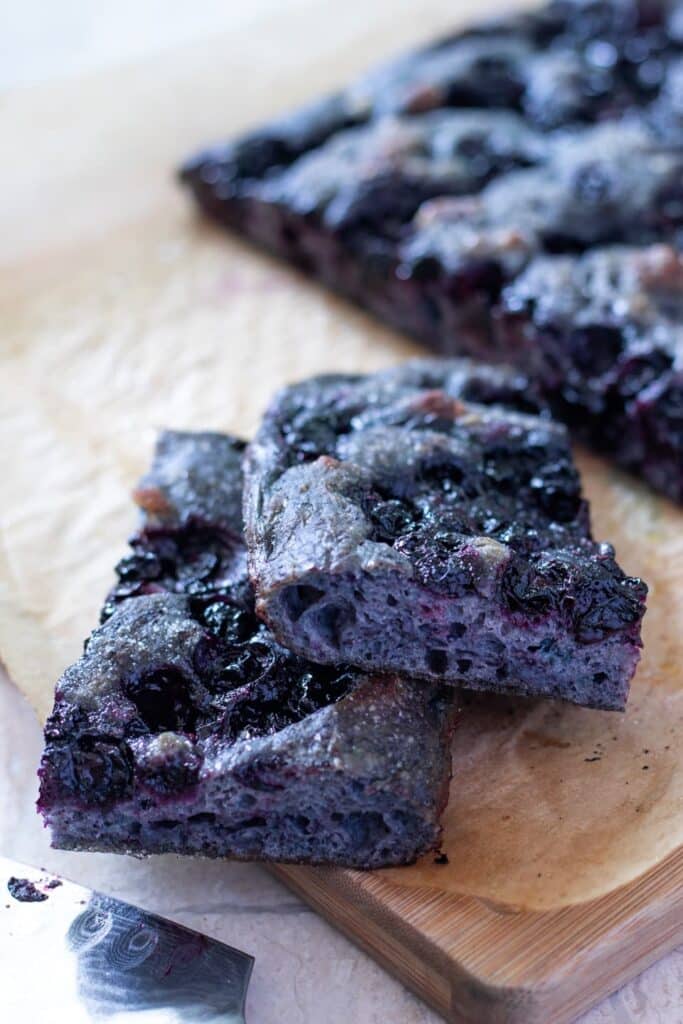 ---
How to Make Sourdough Focaccia
Creating a great sourdough focaccia will require a happy sourdough starter, time, and love.

First decided- do you want a blue focaccia or do you want to stick with a more classic focaccia dough?

This recipe has the option to include dried blueberry powder with blue spirulina to add a blue hue to the dough while adding antioxidants with a blueberry flavor.

Both breads taste fantastic- it's really a personal preference! I order my blueberry powder and blue spirulina online since they are more specialty health foods. Do not use green spirulina in this recipe as the flavor is not neutral like blue spirulina! The difference between blue and green spirulina is blue spirulina has had the chlorophyl removed, chlorophyl has a very green taste. While it is nutritious, it is not the flavors you want in a sweet blueberry bread. Blue spirulina is great in this bread because of it's powerful blue hue that is gorgeous in combination with blueberry powder.

The blueberry powder adds a blueberry flavor to the dough itself- where you also get the health benefits of extra blueberries!
Those additions are completely optional, both ways taste incredible!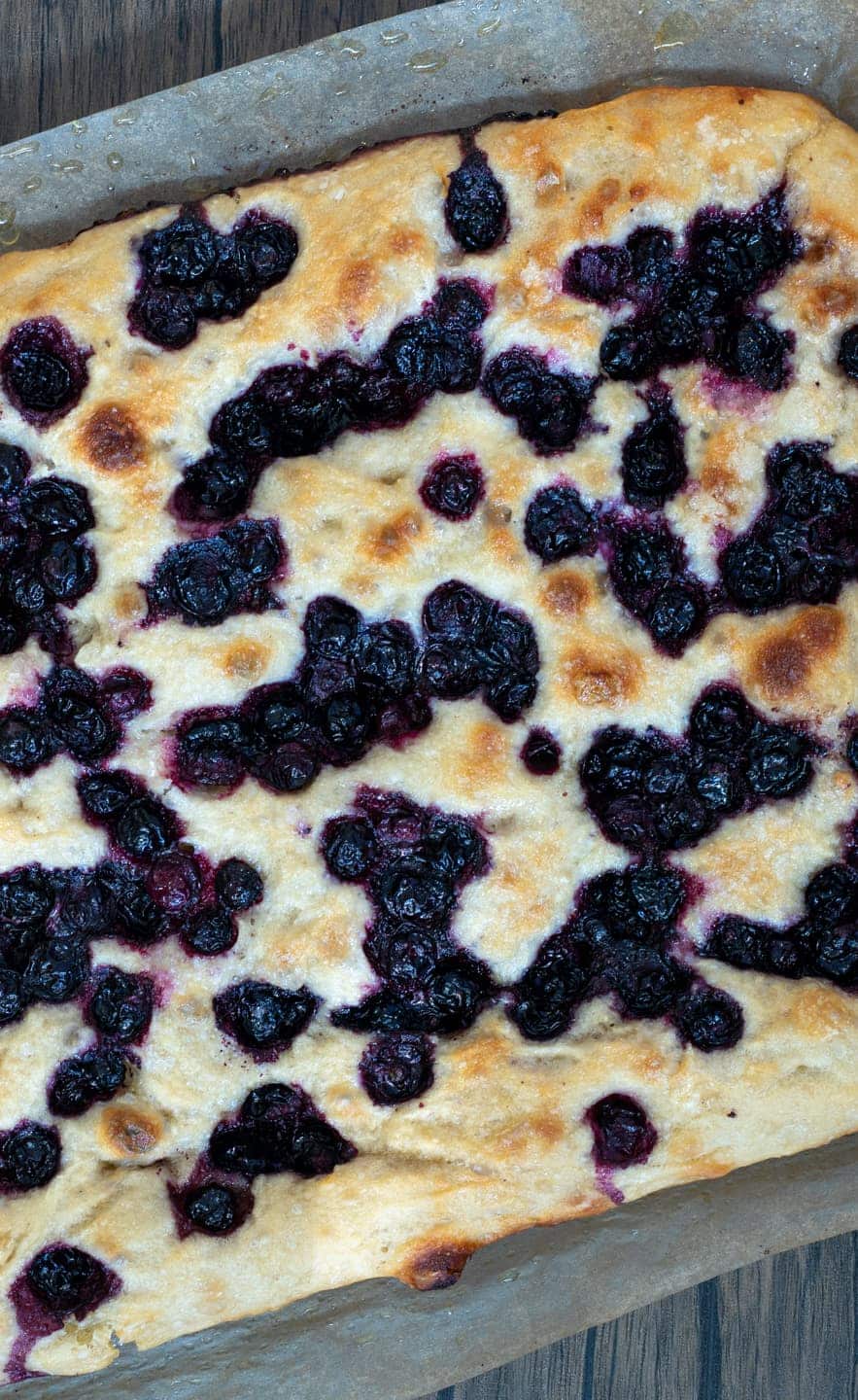 Making the Sourdough Bread Dough
For a fluffy focaccia use a starter that has been freshly fed. Ideally fed your starter the night before you bake and start assembling the dough the next morning.
This recipe will still work with sourdough starter that has been fed within the week- it might need a longer rising time though.

You can mix everything together with a stand mixer with a dough hook or you can hand mix it with a wooden spoon. A bread dough hook is helpful for making sourdough breads in general, but it is not necessary. Just make sure everything is mixed well and incorporated together.

Stretching and Folding the Dough
The stretch and fold phase is a common step in sourdough baking. It is where you grab one edge of the dough, stretch it out a bit, and fold itself over itself. You repeat this process every 30 minutes 4 times to help build up the gluten in the dough. This helps the dough create more protein structure to help hold the rise. Meaning a chewier and fluffier bread.
Rising the Sourdough
The exact amount of time the dough needs to rise is dependent on many factors.

The first is, how warm is the room temperature?
A hot summer day where the kitchen is the high 70s to 80s (Fahrenheit) may only need 1 1/2 hours for the dough to double in size. A cold kitchen in the 50s to 60s may need up to 8 hours to double in size.
This is where you need to pay attention.

You don't want the dough to double in size- you want it to increase by 50% in size. Normally this will take about 2 hours in a 70 degree room with a well fed starter.
A starter that hasn't been fed recently might also need more time for it to rise. If you are using an older starter that hasn't been fed within the past week expect to add a few hours to your overall rise time. Since older starter is more acidic it will also have a sourer flavor for your bread. Some people love the taste of sour sourdough, this is completely up to your personal preference.

Many sourdough bakers will use a clear container and mark where their dough is before rising it so they can measure once it has increased by 50%. While that will help you get the most accurate results, it is not necessarily. Use your best judgement as to when it looks like it has grown by 50% but hasn't fully doubled in size.

Adding The Dough to a Well Oiled Pan
Once the dough has increased in size it's time to shape it!

Line a baking sheet with parchment paper and drizzle a generous amount of olive oil. The olive oil will function to prevent the dough from sticking (the sugared blueberries will create a caramel at the base of this bread). It will also help the bread have crispy edges which is absolutely delightful in combination of the soft juicy bits of berry. The recommended 2-4 tablespoons of olive oil will look like a lot- but it is absolutely necessary for the crust.

Stretch the dough out over the baking sheet over the olive oil and add more olive oil to the surface of the dough. Using your fingers dimple it in without breaking the dough.

This may seem like a lot of olive oil- however the olive oil helps give the focaccia that crispiness you are looking for. If you want a recipe with less oil, I recommend looking at the other sourdough recipes listed below. The Seeded Rye Sourdough is my go-to healthy loaf of bread.
Cold Fermentation
At this point the loaf of focaccia is topped and shaped and will need to cold ferment in the refrigerator overnight. The cold fermentation step is where the sourdough starter will culture your dough. This chemical process breaks down the sugars into lactic acid which not only helps you digest the bread better, but it has that sour flavor that is famous in sourdough. It helps you digest more antioxidants from the bread all while improving the flavor! The longer you cold ferment the bread the more benefits you will get.
You can cold ferment your bread for up to 5 days! However, this will result in a very sour bread. Consider adding more sugar to the surface of your bread to help balance the sourness of a longer cold ferment.
Looking for Other Sourdough Recipes?
Blueberry Sourdough Focaccia
This blueberry sourdough focaccia is loaded with blueberries, the juice from the berries creates this crunchy caramel at the base of the focaccia. It's sweet, it's juicy, it's crunchy, and has that sourdough flavor that balances everything out.
Print Recipe
Ingredients
Dough Base
250

Grams

Sourdough Starter

Freshly Fed is Ideal!

520

Grams

Bread Flour

440

Grams

Water

16

Grams

Salt

2

tbs

Dried Blueberry Powder

Optional, adds a blueberry flavor directly into the dough

1

tbs

Blue Spirulina

Optional, helps make the dough extra blue while adding antioxidants

5

tbs

Olive Oil

Plus extra for lining the parchment paper
Toppings
1 ½

Cups

Blueberries

Fresh or frozen works

½

Cup

Sugar
Instructions
Mix together the starter, flour, blueberry powder, blue spirulina, salt, and water together

Let rest for 30 Minutes

Stretch and fold the dough about every 30 minutes for 2 hours (for 4 stretches and folds)

Let dough rest for 2-3 hours (or until it has increased in size by 50%)

Put dough in well-oiled pan (2-3 tbs of olive oil) lined with parchment paper, stretching the dough to fit the pan

Add a generous amount of olive oil to the surface of the dough (2-4 tbs olive oil) and dimple the surface

Toss the blueberries in the sugar*

Add the sugared blueberries to the surface of the focaccia, pressing them into the dough.

Sprinkle any excess sugar over the focaccia. This helps create a crunchy and caramelly crust.

Place in refrigerator overnight

The next day preheat the oven to 430F

Remove the bread from the refrigerator and bake it immediately, don't let it get to room temperature before baking (or you'll risk overproving)

Bake for 20-25 minutes or until the middle looks golden brown

Remove it from the baking sheet and place on a cooling rack.

Wait for it to fully cool before cutting into it, the release of steam can result in a gummy bread.
Notes
Love floral food?
Try adding 1 tablespoon of dried lavender flowers to the blueberries right before you add the sugar and place it over the dough. Blueberry lavender focaccia is so lovely! 
Nutrition
Calories:

339

kcal

|

Carbohydrates:

58

g

|

Protein:

8

g

|

Fat:

8

g

|

Saturated Fat:

1

g

|

Polyunsaturated Fat:

1

g

|

Monounsaturated Fat:

5

g

|

Sodium:

640

mg

|

Potassium:

112

mg

|

Fiber:

2

g

|

Sugar:

14

g

|

Vitamin A:

13

IU

|

Vitamin C:

2

mg

|

Calcium:

13

mg

|

Iron:

1

mg

Did you try this recipe? Please leave a review and let us know how it went!

Looking for more recipe inspiration?
Here's the latest:

By