This Vegan Pesto Sauce uses almonds to give it extra richness- this healthy pesto is easy and quick to make!
It is made with a blend of herbs, fresh spinach, almonds, and spices to make it a flavorful spread/sauce.
Would you call this a vegan spinach pesto or is it is more of a vegan almond pesto?
Both of these ingredients are fantastic together and create a truly unique yet delicious pesto!
This is one of the best ways to sneak more spinach into your diet- perfect for picky eaters!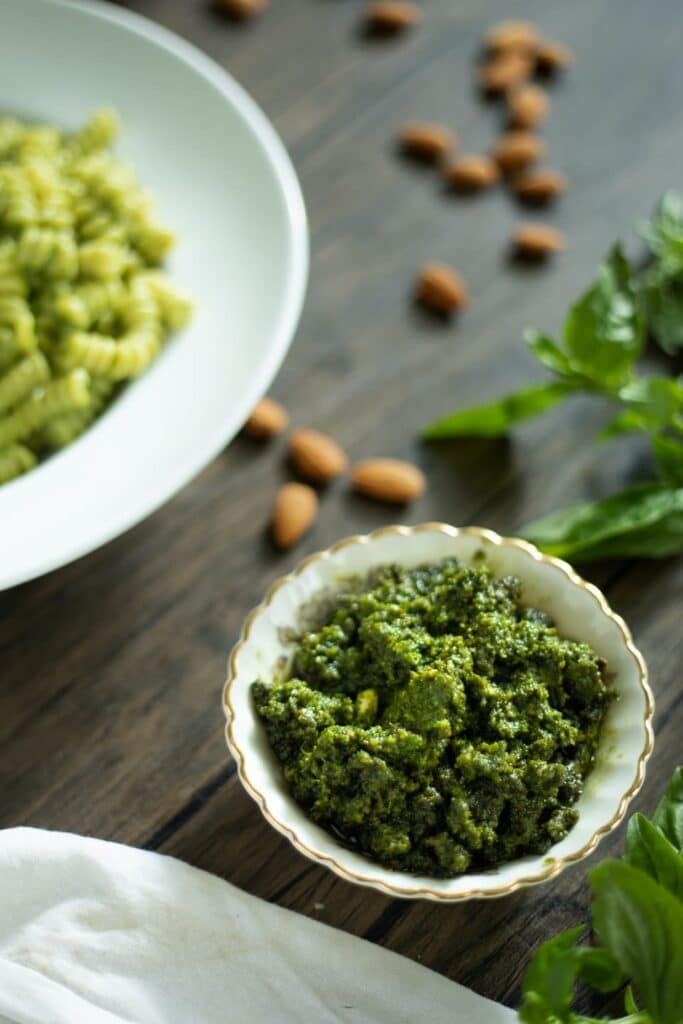 Making the Spinach Almond Pesto
Garlic Confit for Pesto
This simple recipe starts out with you making a garlic confit. It sounds fancy, but it is very easy and really is a game changer for maximum flavor.
The easiest way to make it the confit is in the oven; however, you can make it over the stove or use an instant pot!

To make the garlic confit in the oven add the garlic to an oven safe dish and pour over enough olive oil to submerge the garlic. A small cast iron skillet works great here- another great option is an oven safe Pyrex bowl.
To make the garlic confit over the stove simply put add your garlic to a saucepan and cover the garlic with enough oil to fully submerge it. This will be anywhere from 1-2 cups of oil and really depends on the size of your pan.
Put the stove on a low heat where it is barely simmering. Leave it covered at the low temperature for 1 hour to let the oil infuse in the garlic.

To make the garlic confit in the instant pot do the same process where you add enough olive oil to fully submerge your garlic. Then set the instant pot to slow cook and adjust it to low. Leave it to cook for 1 hour.
Spinach and Other Greens for Pesto
The base of this pesto is two cups of fresh spinach! This recipe hasn't been tested with frozen spinach. If you use frozen spinach please leave a comment and let us know how it went! Since everything will be blended, you don't need to remove the steams of the spinach for this recipe.

This vegan pesto recipe can work with other greens besides spinach if you have other greens more available to you.
Beet greens, turnip greens, or even swiss chard can work here! If you decide to use a green like kale, you may want to increase the amount of garlic, basil, and nutritional yeast flakes. Kale has a very 'green' flavor that can be overpowering- that doesn't mean that it is impossible to use in a great tasting pesto!
Almonds and Other Nuts for Pesto
Almonds help add a nutty richness to the pesto that is great for skin and heart health! It is a great source of vitamin e and tastes fantastic in this pesto. This recipe tastes amazing with roasted pistachios! It is also fantastic with walnuts as well.
Whether you use raw or roasted nuts will be up to your preference. There are more health benefits to raw nuts over roasted nuts, however the flavor is much nicer with roasted nuts.
You will have a smoother pesto with raw nuts and will want to use a high powered blender if you use roasted nuts. Otherwise you will have a slight grain in your pesto- which is totally fine too!
Tools You'll Need
This recipe works best with a high-powered blender. However, it also works with a food processor. You really need something powerful enough to blend the almonds down
Storing the Pesto
Properly stored this pesto can have a long shelf life that is packed with flavor. The best way to store it is tightly packed in a glass jar then cover it in a layer of olive oil. Oxygen degrades the food of flavor and nutrients over time. When you create an environment that limits oxygen from touching the food you are helping slow down the foods aging. The olive oil layer on top of the pesto will help prevent it from drying out, keep it's herbal flavor, and helps it last weeks longer!
Covered tightly in a small jar with a layer of olive oil this pesto can still taste super fresh after a month. It hasn't been tested to last longer than that. Please share your experience if you store it for longer than a month!
Looking for another Pasta Sauce Recipe?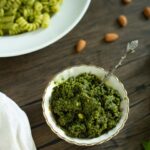 Spinach Almond Pesto
This spinach almond pesto is packed with flavor and is a healthy addition to any dish! Simply add a couple of tablespoons of this pesto to some freshly cooked pasta for a quick meal that everyone will love.
Print Recipe
Instructions
Garlic Confit for the Pesto
Preheat your oven to 250F

In a small bake safe container add your peeled garlic and enough olive oil to completely submerge the garlic. The amount of oil you'll need with vary based on the size of container you use

Roast in the oven for 1 hour
Blend the Pesto
Add everything to a blender expect for the garlic confit.

Add half the garlic from the confit to the blender and a 1/2 cup of the olive oil that was cooked with the garlic.

Blend on high until smooth. It will be very thick and very flavorful

Store in a glass jar and top with a layer of olive oil to prevent air from touching the surface of the pesto. Top with more olive oil after each use to help preserve it.

The pesto will store up to 4-6 weeks in the re
Notes
This pesto is very thick and is meant to be diluted before each use!
Making it this thick helps reduce the amount of oil you need to use and will help it last longer. 
To make a pesto pasta save 2 tbs of salted pasta water and add 1 tbs of the pesto- then toss in the pasta. 
Nutrition
Calories:

241

kcal

|

Carbohydrates:

3

g

|

Protein:

3

g

|

Fat:

25

g

|

Saturated Fat:

3

g

|

Polyunsaturated Fat:

4

g

|

Monounsaturated Fat:

17

g

|

Trans Fat:

0.001

g

|

Sodium:

154

mg

|

Potassium:

99

mg

|

Fiber:

1

g

|

Sugar:

0.3

g

|

Vitamin A:

644

IU

|

Vitamin C:

3

mg

|

Calcium:

28

mg

|

Iron:

1

mg

Did you try this recipe?
Please take a moment to leave a rating and write a review!

Looking for more recipe inspiration?
Here's the Latest!

By