This pretty pink sushi is the perfect meal for girl dinner! This bright sushi is colored naturally and is filled with healthy vegetables that will leave you glowing!

The secrete behind this pink rice is a small amount of fresh beet! No worries- it doesn't have any of that beet flavor but leaves the rice a gorgeous hue!
Another way to make these rolls pop is with homemade Đồ Chua that is made pink. Đồ Chua is daikon and carrot in a sweet vinegar- it becomes magenta if you add a couple of chunks of beet to it! The beet doesn't flavor the Đồ Chua at all, just makes it hot pink!
The best way to prepare the Đồ Chua is to make it the night before so the veggies have time to pick up the pink hue. However if you make it at the same time as your rice it will still offer a soft pink hue!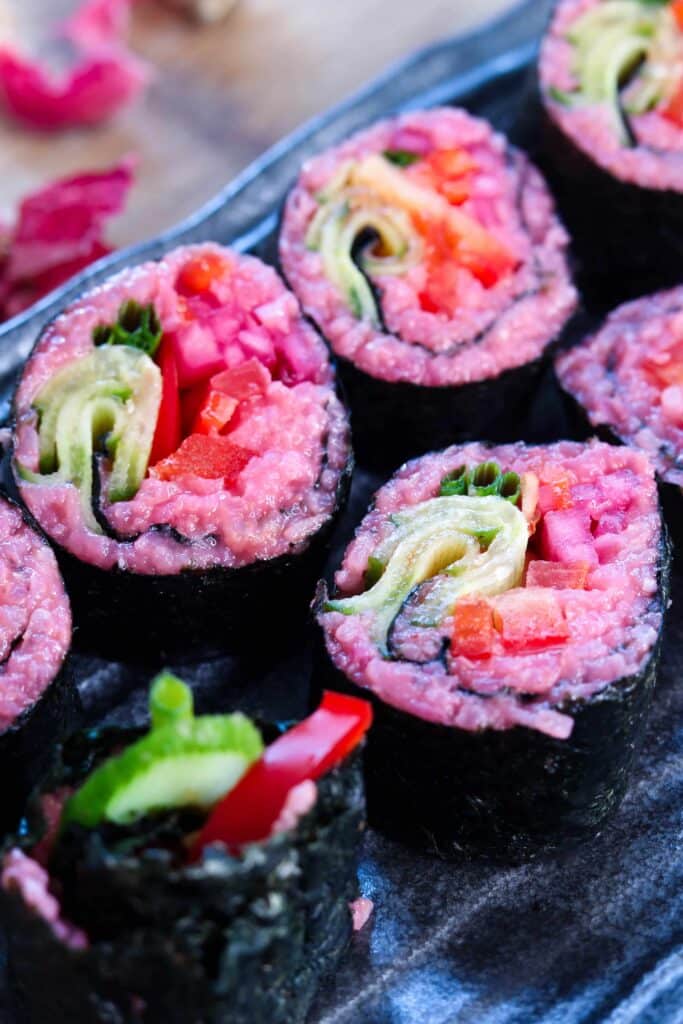 The Filling
This veggie roll is filled with Đồ Chua, red pepper, cucumber, chives, and sriracha. You can easily swap out any of these veggies and still have a fantastic roll! It is recommended to have some green element like the cucumber and chives to help contrast the pink- it helps make the whole roll pop! The sriracha is optional- the spice adds a nice contrast to the sweetness of the Đồ Chua and helps brighten up the veggies even more. A bit of spice also helps your digest raw vegetables better- something to consider if you have bloating after eating vegetables.
Other vegetables or fillings that would be awesome in this roll
avocado
sprouts
tofu
tempeh
tempura fried veggies
Assembling the Roll
Start by making your sushi rice. Ideally you are using a sushi rice, but any short grain rice will work. Keep in mind if you use a short grain brown rice, the color will be less intense.

I recommend using a rice cooker or instant pot to make your rice. It offers the most consistent results with making perfect rice. If you do not have a device to make your rice you can make it over the stove.

To make rice over the stove, boil 2 cups of water. Add 1 cup of rice and reduce the heat to low. Keep the pot covered and at a low simmer. Check to see if the rice is tender after 17 minutes. If you are making a double batch it can take up to 25 minutes for the rice to be tender.
Cutting your veggies into thin, long slices will help you have a better mouthfeel when eating the sushi. Layer the veggies next to each other vertically before rolling the sushi into a long log. Make sure your knife is sharp- it is recommended to sharpen your knife before cutting the sushi. This will help ensure you have neat pieces of sushi.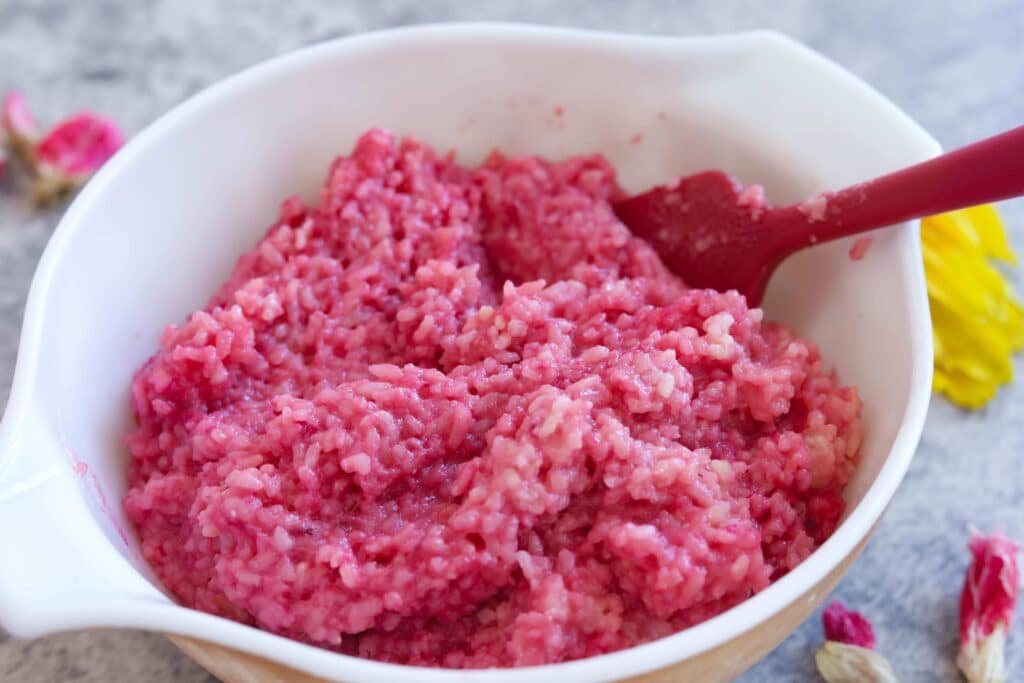 Looking for Other Pretty Vegan Recipes?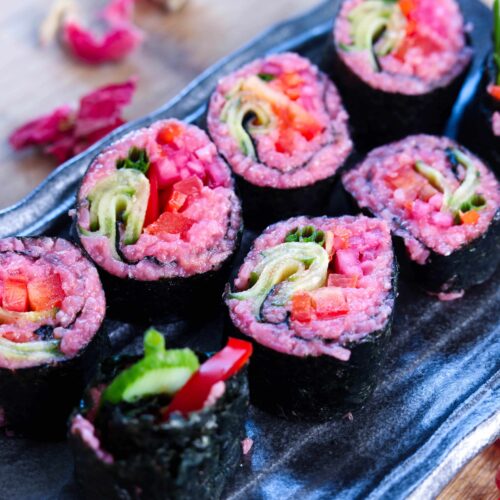 Pink sushi roll
How to make pink veggie sushi- perfect for girls night! This bright and happy sushi is filled with healthy vegetables that will leave you glowing.
This sushi is gorgeous, healthy, and super easy to make!
Print Recipe
Ingredients
Pretty Pink Sushi Filling Suggestions
1

Small

Red Pepper

Cut lengthwise and into thin slices

1

Bunch

Chives

1

medium

Cucumber

Cut lengthwise and into thin slices
Instructions
Pink Đồ Chua
Either spiralize or jullian your daikon and carrot. In a medium sized bowl add in the water, sugar, rice, vinegar, and add a few chunks of beets. Add the carrots and daikon and let that marinate. The longer you marinate the brighter pink the carrot and daikon will be! If you let it marinate overnight- it will be magenta pink!
Pink Sushi Rice
Thoroughly wash your sushi rice, give it at least three rinses to remove any excess starch coating the grains of rice.

Add the water to the rice in a rice cooker or instant pot. Cook on Rice setting on low.

Fluff up the cooked rice and microplane (zest) about 2 tablespoons worth of fresh beet over the rice. Add the rice vinegar, mirin, sugar, and salt- stir well.
Assembling the Roll
Using a spoon evenly coat a sheet of nori with rice. Ensure there are no gaps and it is a thin, yet solid layer of rice.

Layer the Pink Đồ Chua and red pepper going lengthwise. Nesxt to that add the cucumber, chives, and add some sriracha.

Carefully yet being firm, roll the nori up into a long log. Use your hands to press the roll tight, being mindful to not tear or make it burst.

Sharpen a large knife, then make 1 inch cuts into the roll of sushi

Serve with soy sauce and wasabi
Nutrition
Calories:

321

kcal

|

Carbohydrates:

60

g

|

Protein:

11

g

|

Fat:

3

g

|

Saturated Fat:

0.4

g

|

Polyunsaturated Fat:

2

g

|

Monounsaturated Fat:

1

g

|

Sodium:

442

mg

|

Potassium:

211

mg

|

Fiber:

3

g

|

Sugar:

6

g

|

Vitamin A:

2359

IU

|

Vitamin C:

21

mg

|

Calcium:

110

mg

|

Iron:

2

mg

By