How to make gorgeous chive blossom vinegar!

Chive blossom vinegar is one of the easiest recipes to make and you get such a beautiful result!
How to Use Chive Flower Vinegar

The pink vinegar has a mild onion taste that is perfect for a multitude of recipes.
Salad dressings and vinegarettes
As a base for marinades and sauces
Drizzled over roasted vegetables
Splashed over rice with chili crisp
Used as a based to pickle other vegetables
Use it to curdle milk to make tofu or cheese
Chive blossoms are a seasonal ingredient found in late May through Mid June. Chives are an easy plant to grow, but do not flower in their first year of growth. Chives are perennials that come back year after year, and start blooming in their second year of life.

If you don't want to wait for them to grow check at your local farmers market to see if they are available! I was able to purchase some from the Ballard Farmers Market in Seattle Washington this past May.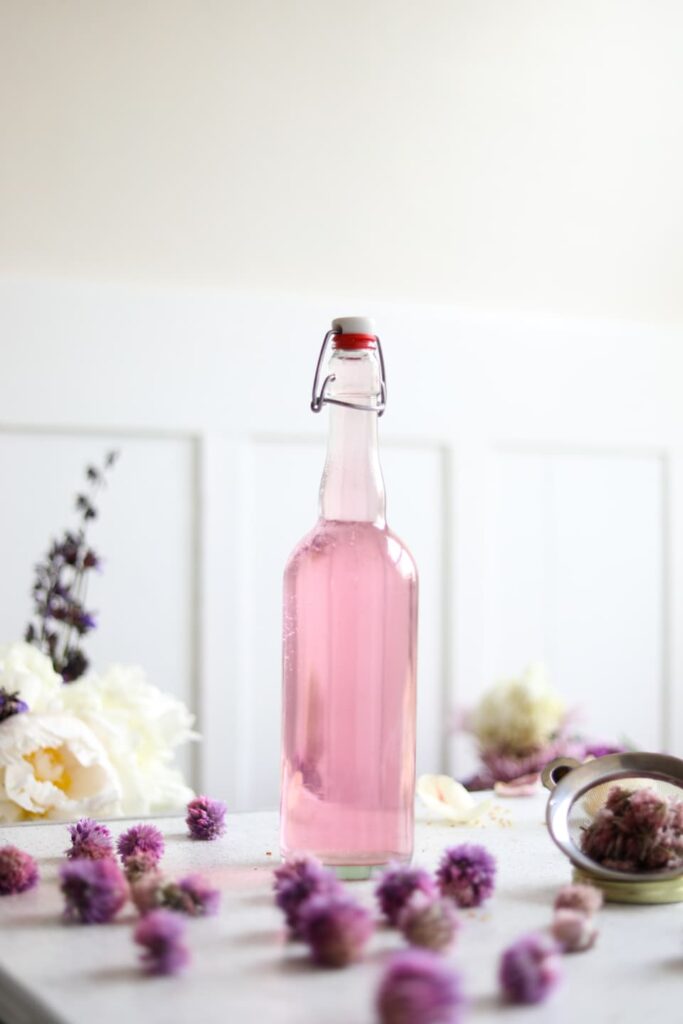 Making the Vinegar Infusion is Simple!
Pick out your vinegar and add the cleaned flowers- then wait, it's as simple as that. Fresh chive blossoms will have a better flavor than if they are older and have dried out. Try to make the vinegar as quickly as possible after they have been harvested for the strongest flavor.
Which Vinegar is Best for Chive Blossom Vinegar?
You can make chive blossom vinegar with any clear vinegar. You could make it with any vinegar, however if you use a vinegar like Apple Cider Vinegar you will not have the beautiful color. Plain white vinegar works great here, but rice wine vinegar or white wine vinegar are also fabulous options.
Using the Pickled Chive Blossoms
A fun benefit of making this chive vinegar is you are left with pickled chive blossoms! They taste like pickled onions and are a delicious addition to many recipes. You can add them to salads, wraps, sandwiches, anywhere you would add pickled onions.

If you bake bread, adding the chive blossoms can turn any loaf into a showstopper!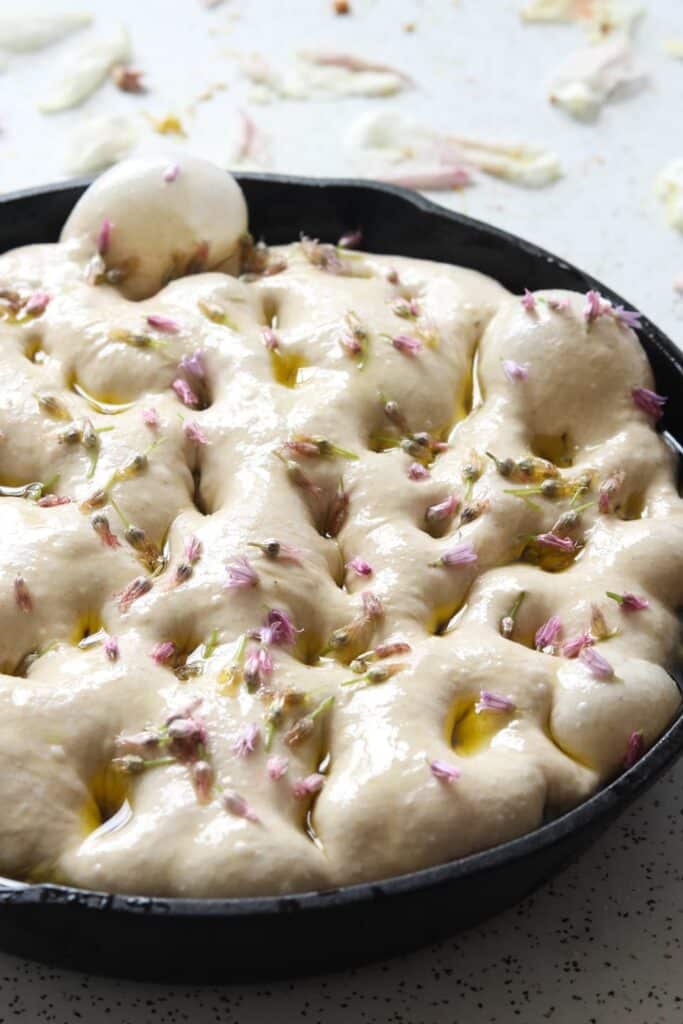 Here is a loaf of sourdough focaccia bread that's ready to go in the oven with a mixture of fresh and pickled chive blossoms. The flowers are laminated through the dough and sprinkled on top for maximum flavor.
How Long Does the Chive Blossom Vinegar Last?
The chive blossom vinegar can last up to 1 year before the onion flavor becomes muted. To preserve the flavor and gorgeous color of the vinegar store it in a dark and cool place. Keep the chive blossom vinegar in an airtight container to prevent air from entering and causing oxidation. Oxygen exposure can degrade the flavors and quality of the vinegar.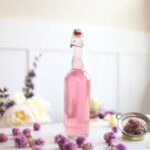 Chive Blossom Vinegar
How to make gorgeous chive blossom vinegar! Chive blossom vinegar is one of the easiest recipes to make and you get such a beautiful result! This onion flavored vinegar is bright pink and will brighten up any dish!
Print Recipe
Ingredients
1

Cup

Chive Blossoms

Fresh

5

Cups

White Vinegar

white wine vinegar, or rice vinegar works here too
Instructions
Clean your flowers by dunking them in cold water. Shake off the water and let dry on a towel.

Cut the chive flower at the base of the stem to separate the flower, this will make the one flower broken up into many pieces.

Add the pieces of the flower to a glass jar and pour the vinegar over.

Let it sit in a cool dark place 7-14 days

Strain the flowers and pour the vinegar into an airtight glass jar

Store in a dark place and use up to 1 year
Video
By