Whether you are vegan, plant based, have an egg allergy, or are simply all out of them, let this guide help you figure out how to cook and bake with no eggs. Lets find the perfect substitution is based on your recipe or desired effects!
Let's find the perfect substitution for your recipe –
It's time to veganize!

Before I went vegan I used to love scrambled eggs or fried egg sandwiches. Once I learned more about certain farming practices I needed something better than eggs.
Then I discovered tofu scrambles and fell in love!
For a tofu scramble you'll want to use extra firm tofu for the best results.
(Check out this recipe by Nora Cooks)
If you have a soy allergy there are lots of alternatives that use hemp seeds, pumpkin seeds, mung beans, or chickpea flour for a high protein alternative. If you are cooking with these "eggs", a few things you need to get that 'eggy' flavor is black salt and nutritional yeast flakes.
Black salt contains sulfur, adding an egg-like flavor.
Nutritional yeast flakes adds a deeper umami flavor that is slightly nutty and cheesy.
Combined together, it will make your foods taste like egg!
To get a yellow hue you can add turmeric or beta carotene to the tofu.
I originally bought beta carotene from my local health food grocery store in the supplements aisle for making cheddar cheese from nuts.
I discovered if you pierce a capsule and add it to your tofu, it makes it a rich yellow hue, with no added flavor.
Turmeric on the other hand does add more rich flavor. It is very good for you and is anti inflammatory making it a good addition for health benefits. If you want a more neutral flavor, stick with the beta carotene.

The recipes out there for chickpea scrambles are great!
Check out what Sweet Simple Vegan created, for instance. However I would use a beta carotene capsule in place of the turmeric and add a tablespoon of nutritional yeast flakes to add more umami to the recipe.
There are also products out there like Just Egg or Follow Your Heart's VeganEgg that that taste and feel just like eggs!
I have not tried Follow Your Heart's VeganEgg, but tried both the egg patties and liquid Just Egg. While I enjoyed the Just Egg, but thought the individually plastic-wrapped egg patties was wasteful. Unfortunately there is too much plastic used in Just Egg where I would love to see a compostable option.
It is also more expensive to buy these egg alternatives. That is why I prefer to use less processed alternatives I have listed here below.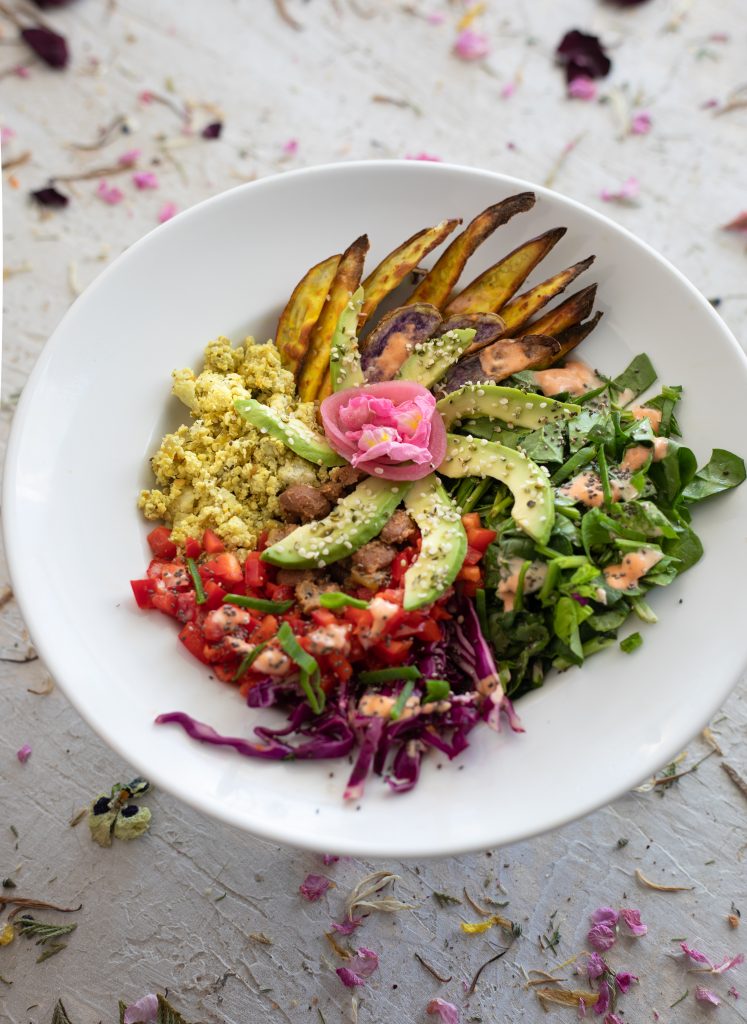 Check out this Hemp Tofu Breakfast Bowl-
This high protein, gluten free, vegan bowl is the perfect way to start your day.
Feeling inspired?

Slice up some fresh potatoes and either roast them in the oven or air fry them while you create your tofu scramble.
Serve it up with chopped veggies and drizzle on a dressing for a fresh breakfast!

This also pairs well with a Bloody Mary.
There is no single egg replacer that works perfectly in every recipe. Some things work better than others, and what you need depends on your recipe.
When substituting eggs there are lots of options like a flax egg, chia seed egg, apple sauce, mashed bandana, aquafaba, silken tofu, and powdered egg replacers- will each help moisten, leaven, or bind your recipe?

If you are baking and want a light and fluffy result you need an egg replacer that will help leaven. This means that it helps it trap air in your bread, cookies, or whatever you are baking. Yeast, baking soda, and baking powder are all examples of a leavener. If your recipe has those ingredients already then odds are the egg in the recipe is helping bind or moisten.
If it doesn't have those ingredients then add 1 tsp baking soda with 1 Tbs white vinegar.
All about Aquafaba
Store bought egg replacers work well to help recipes stay light and fluffy, but a more economic option is aquafaba.

Aquafaba is the liquid in canned beans or chickpeas, or the leftover liquid after you make dried beans. Aquafaba can be whipped up to be very light and fluffy. This makes it perfect for meringues, macarons, and mayo.

Aquafaba also works as a binder- it really helps keep your recipe together! To use it as replacer you need 3 Tbs per egg or 2 Tbs per egg white.

I love using aquafaba as a sub for eggs; I regularly make dried beans in my crock pot, and now in an instapot. With my leftover aquafaba from making beans. I can save it for making veggie broth too!

Yet it is mild enough in flavor for most sweet recipes, (try to save black bean and pinto bean aquafaba for savory recipes, where chickpea aquafaba is more versatile and works great in sweet recipes).

While aquafaba works great for binding there are lots of other options for you to choose from.
For a flax egg you add 3 Tbs of water to 1 Tbs of ground flax seeds
For a chia egg you add 3 Tbs of water to 1 Tbs of ground chia seeds
I love using the ground seeds flax and chia seeds are loaded omega 3 fatty acids and are anti inflammatory, and easy to whisk up. I hope they are already in your fridge as one of your staples! (Omega 3 fatty acids can go rancid within a few weeks at room temperature, store them in the fridge for a longer shelf life.)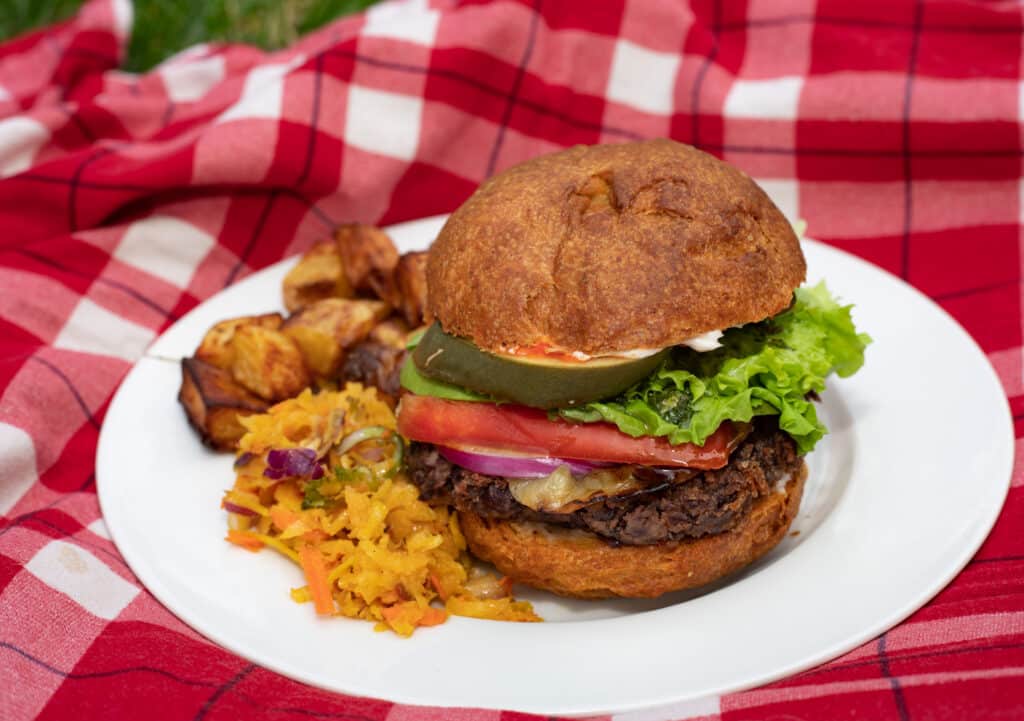 Making Homemade Veggie Burgers
If you are making veggie burgers a flax and chia seed egg are great for helping your burger stick together better.
To help your burger be moist make sure your recipe includes mashed beans, silken tofu, or some kind of pureed vegetable in addition to the flax or chia egg. Add 1/4 cup of the pureed veggie per egg in the recipe.
Pureed mushrooms are fantastic in veggie burgers, but other veggies that also work great is tomato paste, sweet potato, squash, zucchini, bell peppers, peas, and many others.

For other recipes that use eggs to help the result be moist, gooey, and soft, you can see there are lots of options.


Baking cookies and Brownies

Half a mashed banana in place of a egg.
OR
1/4 cup apple sauce per egg
OR
1/4 cup silken tofu per egg
These ingredients help keep your cookies moist and in part works like a binder. 1/4 cup of any purred fruit would work in baking sweets, but be cautious that you are getting the flavors you want. For example, the banana flavor can carry through in some cookie recipes. Apple sauce has a more neutral flavor that can be used more versatilely. This is even more true with the silken tofu, as it has very little flavor.
Tips when 'veganizing' a recipe

If you start to feel overwhelmed by all the options that you can use to substitute eggs in a non-vegan recipe, don't despair!

A trick I like to use to look up a few vegan versions of that recipe you are trying to veganize and see what they use for egg replacer.
Lets say I want to make a vegan version of my families recipe for chocolate chip cookies. I would do a quick google search and see what vegan recipes there are and compare it to my family recipe.
Most commonly, you'll find apple sauce replaces the eggs. However you'll find that other recipes use things like banana, tofu, or basic powdered egg replacer. In the end, I'll try to use what the top rated recipes suggest.


If you have any questions about this or want to know what kind of egg you should be using, drop a comment below!

Want to learn more about creating your own plant based staples?
Checkout this recipe for making Mother Clucking Seitan!
Or try out this recipe for Smoky Maple Balsamic Ketchup!




Air Fryer Recipes Baking Recipes Bread Recipes Breakfast Candy Recipes Chanterelle Recipes Chicken of the Woods Recipes Comfort Food Recipes Dip Recipes Drink Recipe Eco Friendly Lifestyle Fall Recipes Fried Recipes Gluten Free Recipes High Protein Recipes Instant Pot Recipes Late Summer Recipes Lobster Mushroom Recipes Low Calorie Maitake Recipes Morel Recipes Muffins Recipe Mushroom Recipes Nut Free Oyster Mushroom Recipes Pasta Recipe Pizza Recipe Plant Based Seafood Recipes Sandwich Recipes Seitan sides snacks Soul Food Soup sourdough Soy Free Recipes Spring Recipes Stove Top Recipe Summer Recipe Sweet Recipe Tea Recipe Thanksgiving Vegan Recipes Winter Recipe Winter Recipes

By