Extra tasty, ultra healthy Baked French Fries, are very colorful, and guilt free!
Rainbow fries are the perfect healthy snack/side that will keep your skin glowing and you feeling great. How fun are these?!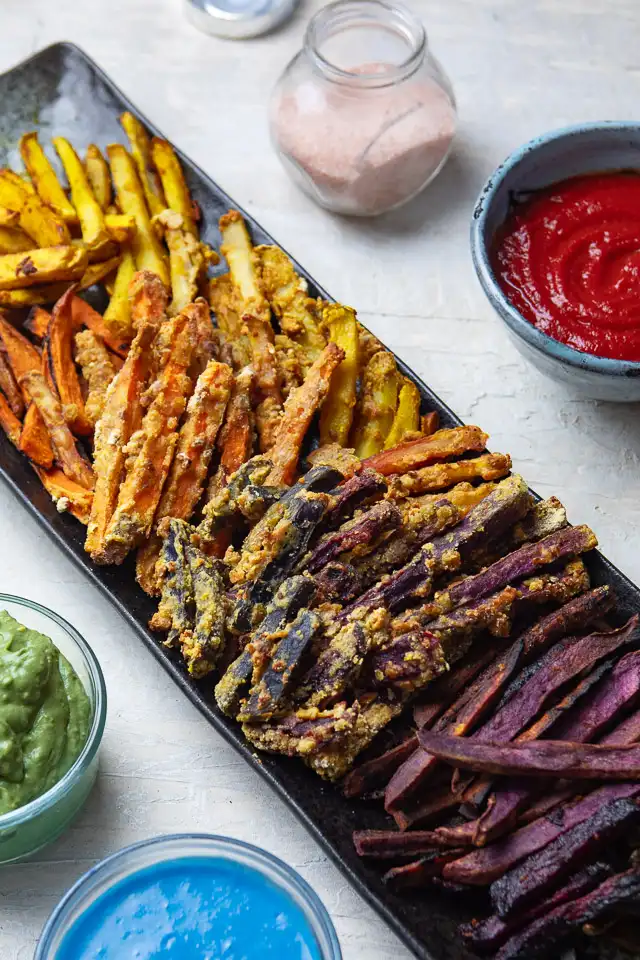 There are two different ways you can make these baked rainbow fries- you can bread them for extra crunchiness like in the top image.
Or you can keep them traditionally plain, simple, making it perfect for dips. It all depends on what YOU are in the mood for!
I sometimes like to go all in with the crunchy breaded fries when I want some real comfort food that is still pretty healthy.
This recipe uses a combination of both breaded crispy fries and traditional plain fries.

The real secret to these fries is the mixture of potatoes.
Each of these potatoes has different nutrients, different health benefits, different flavors, and of course, different colors.
Mix it up and try it with your favorite mixture of potatoes!

I was able to find all of these at my local health food grocery store, but if you aren't able to find Japanese sweet potato and purple potatoes, you will also find them at your local Asian/ international grocery store. It's worth the extra trip- it's so much fun to explore all the goodies you wouldn't normally find.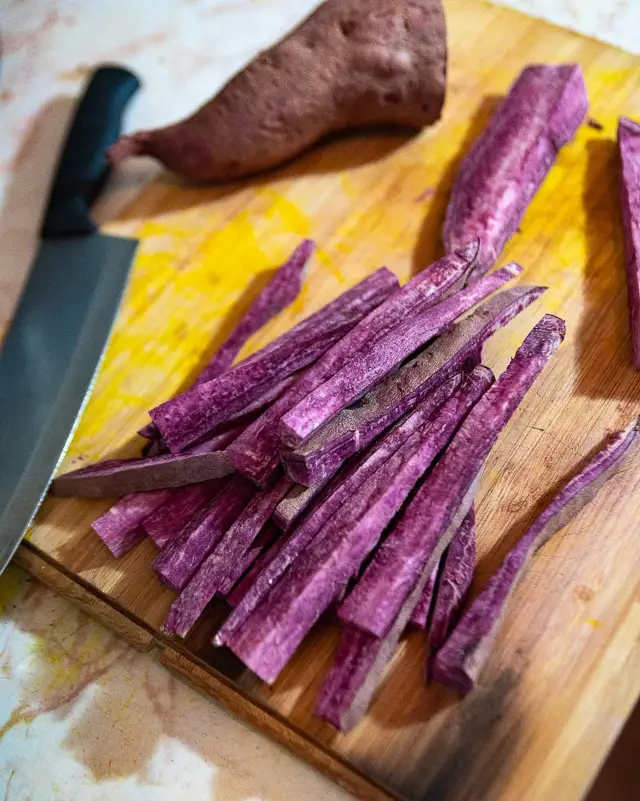 Whether you want to bread your fries or bake them naked- this first step is the same.

Chop up your potatoes into fry shapes, coat in salt, and then let it sit for 10 minutes.

This helps pull out extra water out of the potatoes so they will be more crispy.
After the 10 minutes is up, drain the liquid, and coat in coconut oil.
For the naked fries that's it, then you just bake them.
For the coated fries, you need either aquafaba or to make flax egg mixture (much healthier and more affordable than store bought egg placer), then you need to mix up your flour mixture, then dip your cut fries into the egg mixture, then into the flour mixture, then you bake it (or air fry it!)

If you don't have aquafaba on hand, instead do 3 Tbs flax seed water with a cup of water. This will help make the fries more crispy, hold the flour better, and is a great source of omega 3 fatty acid.
Try out these baked rainbow fries with other veggies like beets, carrots, or parsnips!

Baked Rainbow Fries
Colorful Baked Rainbow Fries creates a fun and healthy snack or side! Eat the rainbow- for your health!
Print Recipe
Ingredients
Blue Miso Dip
3/4

cup

Plant Based Unflavored Yogurt

1

Tbs

Miso

1/2

tsp

garlic powder

1/2

tsp

blue spirulina
Instructions
Oven Directions
Preheat your oven to 350

Slice your potatoes into french fry shapes

Mix your dry ingredients into one bowl, except the turmeric

Whisk aquafaba (or flax egg) with the oil in a bowl

Take half of your Yukon potato and roll it in the turmeric, allow to sit for at least five minutes to absorb the color

Dip all your fries into the liquid Set aside half of the fries divided by color

Take the other half of the fries and dip them into the dry mixture, coating them evenly

Lay everything out of a baking sheet and bake for 20 minutes

Now mix everything together for you blue miso dip

Serve with , siracha mayo, guacamole, hot sauce, or vegan ranch!
Air Fryer Directions
Slice your potatoes into french fry shapes

Mix your dry ingredients into one bowl, except the turmeric

Whisk aquafaba (or flax egg) with the oil in a bowl

Take half of your Yukon potato and roll it in the turmeric, allow to sit for at least five minutes to absorb the color

Dip all your fries into the liquid Set aside half of the fries divided by color

Cook your fries in batches to not overfill your air fryer at 400 for 14-17 minutes (desired crispness), shaking halfway through

Prepare your desired dips while your fries are cooking
Notes
To substitute the aquafaba, do 3 tbs flax seed powder/ or chia seed powder with 1 cup water.
Allow to sit for five minutes to thicken up before use
Try oat flour for a gluten free option
Instead of sriracha mayo try gochujang mayo! Gochujang is smoky, spicy, and full of umami flavor. Find it at your local international or Asian grocery store
Nutrition

Check out more of my recipes posts below!

By