These Bougie Butterfingers (or Betterfingers) are what you wish a Butterfinger was! These crispy peanut butter toffee candy bars are even better than the original. This not just a copycat veganized recipe for butterfingers; this is made with higher quality ingredients and tastes better than the original!
These butterfingers taste even better than the original- they are bougie butterfingers if you will. Using simple ingredients, this recipe is made by laminating layers of caramel with sweetened peanut butter creating a flaky and crisp center.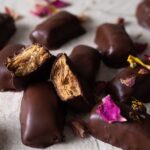 Homemade Butterfinger Recipe
This recipe gives you butterfingers, but allowing you to have a more gourmet version.
This version is with organic peanut butter, raw turbinado sugar (or whatever your preference is), without the artificial food colorings. This recipe will deliver real, quality candy that is ultra-flaky, peanut-buttery, sweet, crisp goodness.

If you've ever tried to buy vegan butterfingers online or at your local grocery store you'll notice those candy bars come at a hefty price. Not only are they really expensive, I haven't found any that tastes just like a butterfinger.

This recipe has you laminate layers of caramel with peanut butter to get those flaky layers. You'll make a fresh caramel, sweeten peanut butter, and fold it together. This is a candy recipe for the candy lovers!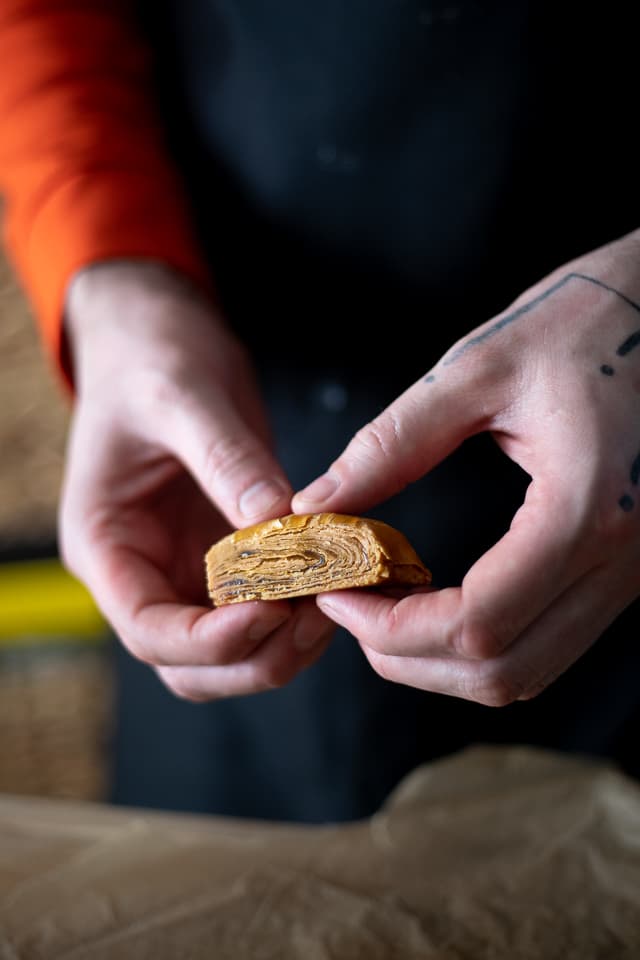 How to Make a Flaky Butterfinger at Home
The general process to make a Butterfinger is to laminate layers of peanut butter dough with hard caramel.
The process is similar to laminating dough for pastry.
You place a square of sweetened peanut butter over a larger square of caramel- then fold it together. The folds is what makes the crispy flakes in the candy.
Helpful Hints
This recipe is not forgiving- you must be precise with your measurements for it fold and not crack.
If you don't have enough corn syrup the caramel will harden too much and will crack when you try to roll it out thin. The same can happen if you don't add enough peanut butter- or if you forget to put the caramel in the oven between steps.
The corn syrup helps make the caramel more flexible- Brown Rice Syrup or Sugar Cane Syrup both work as substitutes.
Cane Syrup is made by bringing 1 cup water with 2 3/4 cup sugar and 3/4 teaspoon cream of tartar to 237 degrees Fahrenheit.

This recipe can take practice to get perfect- you must work very quickly to get this recipe right. Look over the step-by-step photos before you start to make the process more simple.
Premeasure your ingredients- especially for the caramel. When it is on the stove the sugar can burn if it's on the heat for even a minute too long. As soon as all the sugar is completely dissolved take the pan off the heat and stir in your corn syrup.
Pour the caramel as soon as the corn syrup is added and shape it into a large square quickly as possible as it is very difficult to spread as it cools.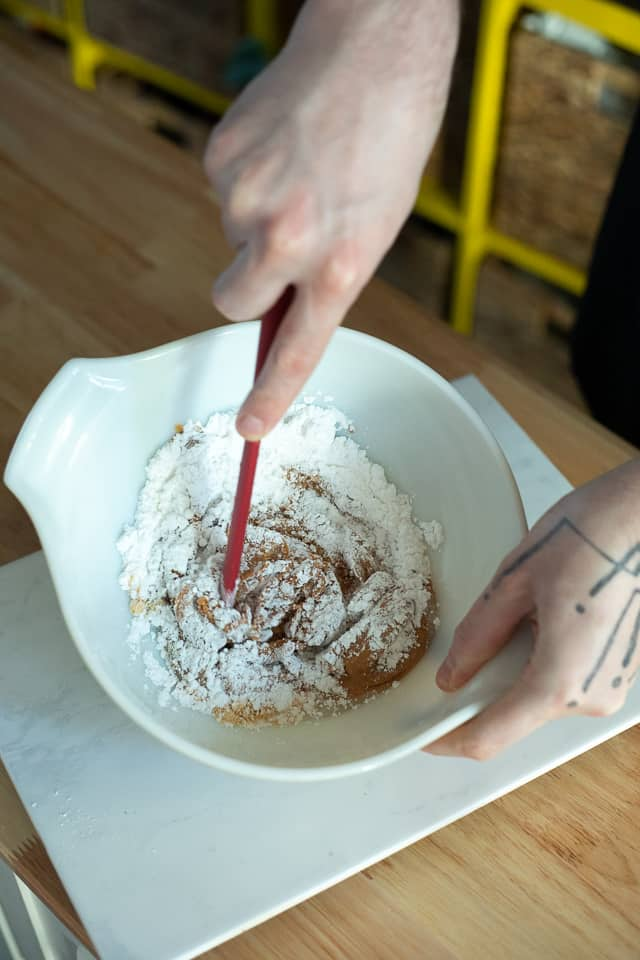 Trouble Shooting Homemade Butterfingers

While this recipe isn't for the faint of heart, it is 100% worth it.
Once my husband learned how to make homemade butterfingers it became his mission to make them for our neighbors for the holidays! Granted we had to make about 5 batches because we kept eating them before we got around to gifting them.

However, there were multiple batches where the caramel cracked- ruining the batch because it wouldn't fold. Which is why it is important to not change the proportions of the corn syrup or peanut butter in this recipe. Also leave the candy in the oven for about 15 minutes between folds to help prevent cracking. It's ok to have some peanut butter seeping out- but it will be very difficult to fold in the peanut butter after it cracks.
If it Cracks…
If it does crack, you can completely crush it up and roll them into bonbons.
Simply crush the candy using a blender or food processor, roll into tight balls with either a melon scooper or your hands and chill the fridge.
Then dip them in chocolate, let the chocolate set, and enjoy!
Those butterfinger bonbons are the bomb dot com. No worries if you mismeasured and end up with some cracked caramel. Make some bonbons with what you have and try again.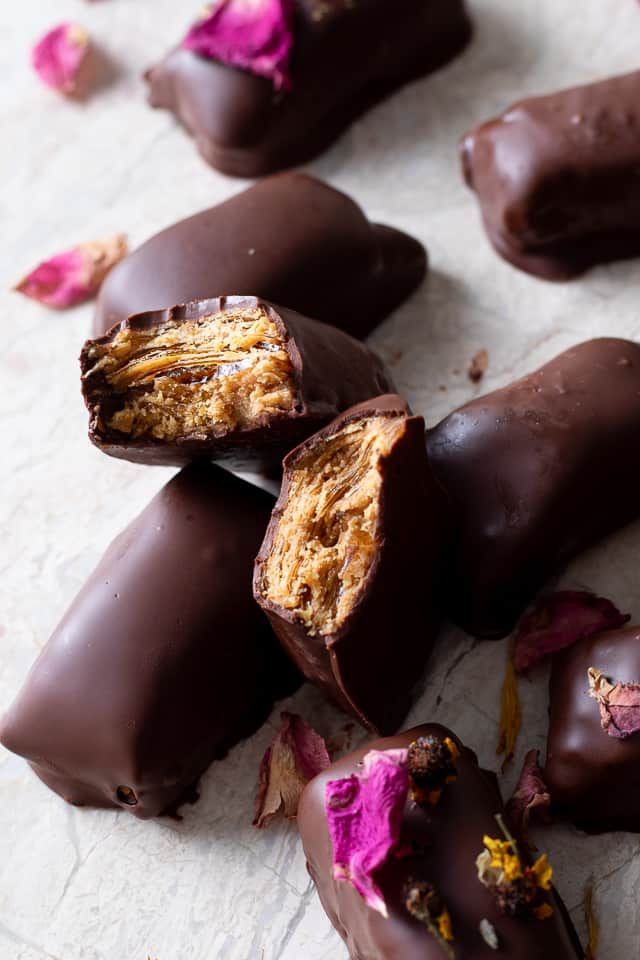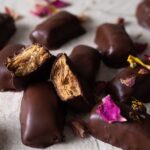 Homemade Butterfingers
These butterfingers taste even better than the original- they are bougie butterfingers if you will. Using simple ingredients, this recipe is made by laminating layers of caramel with sweetened peanut butter creating a flaky and crisp center.
Print Recipe
Ingredients
Peanut Butter Dough
150

Grams

Peanut Butter

(1/2 cup plus 2 tbs) Use Smooth

1/4

Cup

Powdered Sugar

1

tbs

Corn Syrup

or Brown Rice Syrup/Cane Sugar Syrup

1/2

tsp

Peanut Butter Powder
Chocolate Coating
10

Ounces

Dairy Free Chocolate

Use a tempered chocolate for extra shine, or use chocolate chips for a more budget friendly option

1/2

tbs

Coconut Oil
Instructions
Line two baking sheets with parchment paper or use silicone baking mats

Set oven to lowest temperature- (about 170F)
Peanut Butter Dough
Melt the peanut butter so it is liquid, stir in the corn syrup, powdered peanut butter, and sift the powdered sugar into it. Knead it into a dough

Shape the peanut butter dough into a 7 inch square on one on the parchment lined baking sheets- Place in the oven
Caramel
Add the granulated sugar to a saucepan over a high heat. Add the 1/4 tsp of lemon juice to the sugar at the same time it goes in the saucepan. Using a whisk, stir for about 10 minutes until the sugar is fully dissolved and is a golden-brown color. As soon as the sugar is fully dissolved (no grains at all) take off the heat as the sugar can quickly burn.

Whisk in the corn syrup and quickly pour the caramel into a thin 9-10 inch square over the over parchment paper lined baking sheet

The caramel cools fast so you must shape it into a square very quickly and try to make it as neat as possible
Butterfinger Assembly
Take your Peanut Butter slab out of the oven and place it in the center of your caramel sheet- ensuring there is caramel exposed on all the sides

Lifting the parchment paper, fold the caramel over the peanut butter filling to enclose it in thirds sealing the edges as you go. Thick of it like folding a letter and pinching in the sides so the peanut butter filling doesn't escape.

You need to work very quickly of the caramel will become too stiff to fold- if it is too stiff place everything in the oven for up to 15 minutes to make pliable again.

Try to be gentle as you fold the caramel!

If you were even slightly under on measuring the corn syrup or lemon juice the caramel will be very hard and difficult to work with. You'll have to return the caramel to the oven between every step in order to keep it soft enough to work with.

Consider working over an electric stove over the lowest heat with a baking sheet between the caramel to keep it warmer and less likely to crack.

Once it is folded and the edges are sealed place it in the oven for five minutes to help soften

Using a rolling pin, gently roll everything into a thin rectangle, and refold it into an envelope again- and return to the oven to become pliable again

Repeat this process 4 times for a total of 5 folds- Folding it more than the 5 times will result in a less flaky and less crispy butterfinger

After the final fold roll out the candy in 1/2 inch thick rectangle. Cut it in half, and then make 4 vertical cuts to make 8 large bars

Gently shape each bar into a slight curve so it is slightly rounded

Refrigerate the candy for at least 1 hour to let cool (or overnight)
Chocolate Coating
Using a double boiler melt your chocolate and mix in your coconut oil

Using a fork to hold the bar of peanut butter toffee up, pour over the melted chocolate, then place on parchment paper

Repeat until all bars are coated in chocolate

Put the bars in the refrigerator for at least 20 minutes or until chocolate has firmed up
Storing
Keep the candy in a tightly sealed contained in the refrigerator for up to six weeks
Notes
Leave the candy in the oven at the lowest temperature for about 10-15 minutes between folds to help prevent cracking. It's ok to have some peanut butter seeping out- but it will be very difficult to fold in the peanut butter after it cracks.
Be concise with your measurements or the caramel will not be flexible to work with and can crack
Scroll up to the process photos to see what the whole process looks like.
Nutrition
Calories:
393
kcal
|
Carbohydrates:
54
g
|
Protein:
7
g
|
Fat:
21
g
|
Saturated Fat:
10
g
|
Polyunsaturated Fat:
2
g
|
Monounsaturated Fat:
4
g
|
Sodium:
82
mg
|
Potassium:
105
mg
|
Fiber:
3
g
|
Sugar:
47
g
|
Vitamin A:
2
IU
|
Vitamin C:
1
mg
|
Calcium:
55
mg
|
Iron:
3
mg
Other Options

One candy that tastes similar to Butterfinger is a candy called 'chick-o-stick'. I personally haven't tried it, but Vegan Dollhouse coated that in chocolate to make a quick 'Vegan Butterfinger'. It could be a great option if you want something similar that is very simple.

While there are lots of vegan 'butterfinger' recipes out there that use dates as sweetener and rice crispies to make it crunchy, that doesn't seem like a butterfinger candy bar at all. There are many 'healthy' versions of vegan butterfingers, but they taste nothing like the original candy bar. Sure you have a sweet, crunchy peanut butter treat- but you aren't getting that flaky, caramel crunch.

If you are looking for a sugar free, healthy butterfinger I think this recipe could be a healthy treat. I wouldn't call it a butterfinger copycat recipe, but it does offer sweet peanut butter crunch.
I think it would pair well with my sinful copycat butterfinger candy 😈


This is not a 'Sugar Free Health Food' Recipe;
This is the Best Recipe to Make Glorious Candy.


When I say this recipe is glorious- I mean this tastes better than the original butterfinger. This copy cat butterfinger recipe has those crisp flakey layers with the rich peanut butter flavor covered in chocolate.
Hungry for more?
Try out the latest vegan recipes
By