This vegan jerky is made from wheat starch, tofu, and soy protein powder! If you ever made flour washed seitan you might have been wondering what can you do with your leftover starch water- here I show you how to turn it into this meaty jerky!
You've tried mushroom jerky– but what about wheat starch jerky that is bacon flavored?!

This meaty and chewy snack is higher protein than the mushroom jerky.
This jerky gets it's protein from a mixture of tofu and protein powder- the extra protein helps the jerky have a chewier and meatier bite.
It has a lovely bacon flavor from a mixture of smoky and savory flavorings that will leave you craving more!
This vegan bacon jerky is a chewy jerky that tastes like bacon! This recipe uses up starch water from making flour washed seitan along with tofu to add in additional protein and texture. This smokey sweet jerky will be your favorite way to use up your starch water!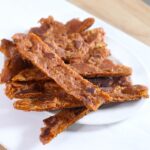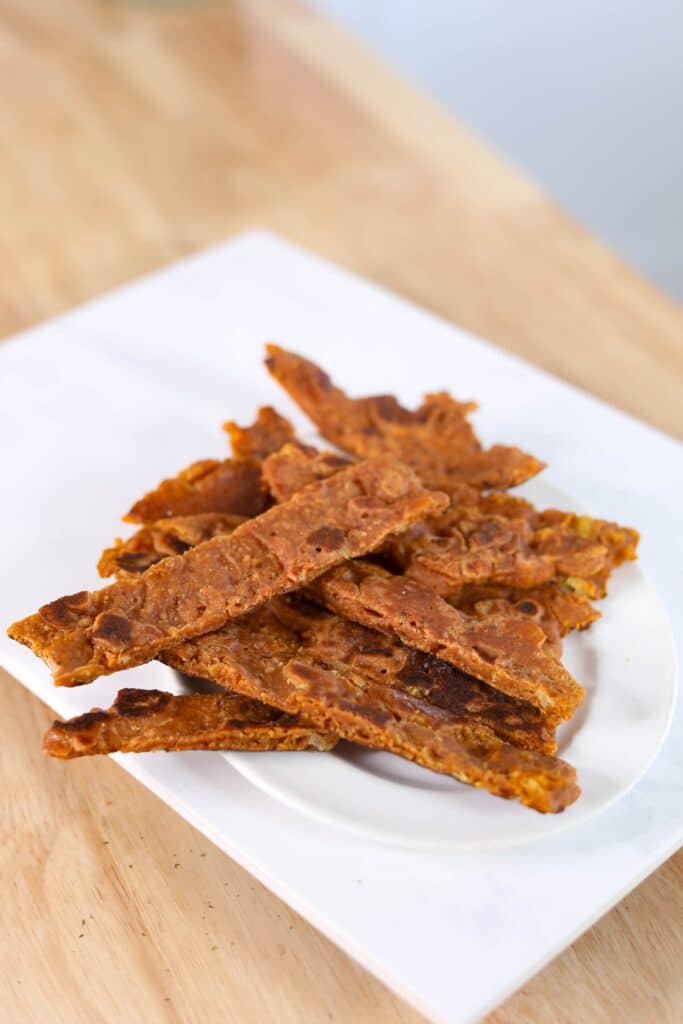 Wheat Starch Jerky- Where Do I get Wheat Starch?
This recipe was written in response to making flour washed seitan or 'vegan chicken'.

Flour washed seitan is where you wash away the starch from a ball of dough, leaving you with pure gluten protein. After you've washed all that starch away from the gluten you are left with starch water. Starch water a mixture of starch and water, and as it sets you can visually see the starch separate from the water.

You can use the starch water any way you can use any variety of starch- like to thicken sauces, use in noodles, ect. If you have a lot of starch water you can always dehydrate it into a powder so it has a longer shelf life!

This recipe uses up 2 cups of starch water, if you made a double batch that would use up all your starch water from making seitan.
It is important to pour off the water off the wheat starch so it isn't too watery. I had my starch water in the refrigerator for over a week and the starch settled to the bottom of the jar so it was simple to pour out. If you try to pour out the water too soon you'll end up pour out starch and as it settles you'll have to pour off more water.
If you don't want to make flour washed seitan you can make this recipe with any variety of starch with a mixture of water. I have not tested this but I see no reason why it wouldn't work.
How does Vegan Bacon Jerky Compare to Bacon Jerky?
Traditional bacon jerky is going to be higher in fat and will be tougher in texture. Bacon comes from pigs, a highly intelligent animal (even more intelligent than dogs), highly social animal, and it is highly unsustainable to raise and slaughter pigs.
This jerky is not going to taste exactly like a pigs meat- I'm not going to misguide you and tell you it tastes just like that. It tastes like a meaty, chewy jerky, that has a bacon-like flavor.
It is delicious and convenient snack- they are addicting! I had a difficult time not finishing all of them after I made them, its a fantastic snack! And it's made with ingredients I can proudly stand behind.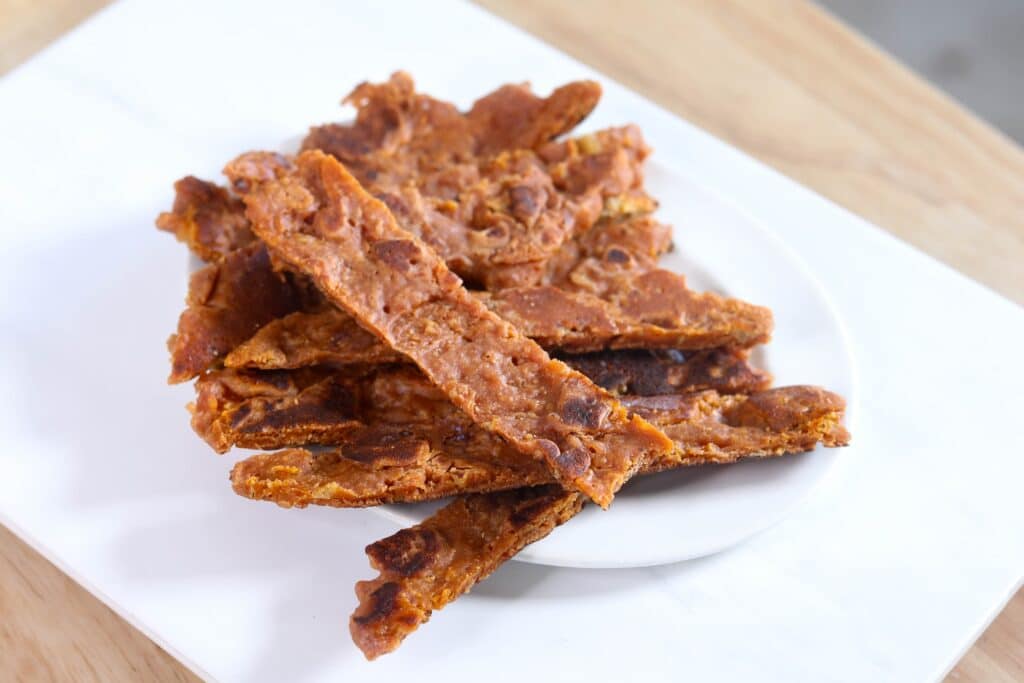 Cooking the Vegan Jerky
After you've poured off the water from your wheat starch you'll pour two cups of it into a bowl. You'll add all the other ingredients until you have a batter. You'll pour that batter into a frying pan and cook it like a pancake. From here you'll stack the meaty pancakes and cut them into strips. Then you dehydrate those strips until they are extra crispy and chewy.
Making the jerky is very straightforward.
Now that you know the gist of how to make it, here are some ways you can customize it
Make it soy free by using pumpkin seed tofu and pea protein powder
Add in chili flakes and extra black pepper to make it spicy
Add in any of your favorite seasoning blends
Instead of smoked paprika add liquid smoke
Bacon Flavored Vegan Jerky
This jerky gets a bacon like flavor from combining savory, salty, sweet, and smokey elements.

I recommend trying coconut amnios in this recipe as it has a salty, smokey, savory flavor that pairs beautifully with everything else. Soy sauce has a much punchier, in your face, saltiness, and pungency that can be overpowering. I don't think they are good substitutes for each other, rather their own sauce.

Do not substitute the tomato paste.
Tomato paste contains naturally occurring glutamic acid which is an amino acid that is responsible for the umami flavor. It is very useful in making foods taste meatier.
The mushroom seasoning in this recipe is also very important.
It is another ingredient with glutamic acid that helps add more depth. It has a quality that enhances the sweetness and saltiness of the jerky. I linked to the type that I use in the ingredients section, but any brand of mushroom seasoning will work. I often find it at H Mart but have been ordering it off of amazon lately.
Nutritional Yeast Flakes is another key ingredient in making this jerky taste bacon like. It is full of amnio acids that help round out the overall flavor, giving the jerky more body. If possible try using smoked yeast! That will be another way to really make this jerky taste bacon-y!
Storing the Starch Jerky
This jerky will store for up to 1 month in the fridge and up to 1 week on the countertop.
Looking for Other Vegan Meat Recipes?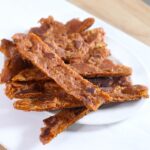 Vegan Bacon Jerky
This vegan bacon jerky is a chewy jerky that tastes like bacon! This recipe uses up starch water from making flour washed seitan along with tofu to add in additional protein and texture. This smokey sweet jerky will be your favorite way to use up your starch water!
Print Recipe
Instructions
Allow the wheat starch to settle in its jar, then pour off the liquid at the top. Ideally the wheat starch has settled at least overnight. Stir it together then pour the 2 cups into a large bowl.

Evenly crumble up your tofu and ensure there are no chunks, add it to the wheat starch along with the rest of the ingredients except for the coconut oil. Mix well together until homogenous

Heat up a frying pan to medium high heat.

Add a small amount of oil and pour about 1/4 cup worth of the mixture on the pan to create a 'pancake'

Cook for about 5 minutes, then flip over and cook for another 5 minutes

Repeat cooking the mixture until all of it is used up

Brush with the coconut oil, and cut each of the 'pancakes' into 1 inch strips

Place on a dehydrator rack and dehydrate for 4-6 hours at 145F
Video
Nutrition
Calories:

250

kcal

|

Carbohydrates:

37

g

|

Protein:

9

g

|

Fat:

8

g

|

Saturated Fat:

6

g

|

Polyunsaturated Fat:

1

g

|

Monounsaturated Fat:

1

g

|

Sodium:

1985

mg

|

Potassium:

207

mg

|

Fiber:

2

g

|

Sugar:

3

g

|

Vitamin A:

248

IU

|

Vitamin C:

2

mg

|

Calcium:

33

mg

|

Iron:

2

mg

By