This copycat Vegan Mars Bar (also known as Milky Way) candy bar recipe has everything you are looking for- fluffy chocolate nougat with a creamy caramel.
This recipe is for the candy lover and for someone who wants a more elevated Mars Bar.

This Mars Bar recipe is a gourmet version that just happens to be vegan- and is even better than the original.
Jump to Recipe
Fluffy Nougat and Creamy Caramel Bar Dunked In Chocolate
This recipe has you create a fluffy chocolate nougat you then pour over a salty coconut caramel, then you cut them into bars, to then dip in chocolate.
To accomplish this, this recipe has you create a vegan meringue- to then create a fluffy nougat out of that stiff meringue.
There are many methods to create a vegan meringue, for example you can make it with aquafaba, flax egg whites, pea protein powder, or soy protein powder.
After many tests, the soy protein powder has proven to hold up to heat and beating better than any of the alternatives without sacrificing flavor. While the others worked, they didn't hold up as well. The aquafaba or flax egg white didn't get as fluffy as the protein powder versions, and the pea protein powder left an aftertaste.

The caramel in this vegan candy recipe is made with coconut milk for ultimate richness. The salt and the vanilla take over the coconut flavor, leaving you with a buttery, yet salty, rich caramel. This is caramel for the candy lover!
You Might Also Like….
If you love making candy and are looking for the perfect gift, give these butterfingers a try!
This vegan Butterfinger recipe is made with laminating layers of sweetened peanut butter with a hard caramel that makes a crispy, sweet, flakey layers- that's then dipped in chocolate.
An assortment of homemade candy is the perfect gift and the best treat. It can be the perfect fix for a bad day. Sometimes making homemade candy and playing video games is the perfect solution to dealing with the world. Cue the jingle "I'm not emotionally in a good place, so I'm baking".
What You Need to Make Vegan Candy
Stand Mixer
You will need a Stand Mixer to make this recipe possible- the hand mixer doesn't fluff the nougat enough. There's also a step when you are pouring the hot sugar with the fluff and you'll need a mixer running while it is pouring. I've tried making this work with a hand mixer and it was a mess.
You can use any brand of stand mixer, and in the recipe card I added a link to the mixer I have.
Candy Thermometer
Another thing you will need is a Candy Thermometer. To get the right texture for the caramel and the nougat you need to measure the temperature- even being a couple of degrees off can alter the recipe. I've found that heating up the sugar too much for the caramel leads to a very stiff and pull-out-your-teeth texture, but if the sugar doesn't get hot enough it will not set and will remain liquid. The same can be said about the hot sugar for the nougat.
You can use any candy thermometer you'd like, in the recipe card I linked to the spatula thermometer I use.
Large Pot
You will also need a large pot. Any tall stock pot or Dutch oven will work- but it must be tall!
When the sugar heats up, it bubbles up and dramatically increases in volume. If you use a small sauce pan it will bubble over- creating a huge mess over your stove, and with the loss of sugar the whole recipe will be ruined. The hot sugar helps give the other elements structure, so if it boils over and you have less of it, the result will be very runny and unworkable.
You can use any large pot you'd like, I linked to one I think would work better. I use a large Dutch oven because I do not have a stock pot. The Dutch oven works, but it's heavy so I wouldn't recommend it unless you don't have another option.
Step by Step Photo Directions
Take a quick glance over these photos to see the process to make these vegan mars bars at home. The whole process goes very fast, seeing what you need to do in advance will help make you more successful.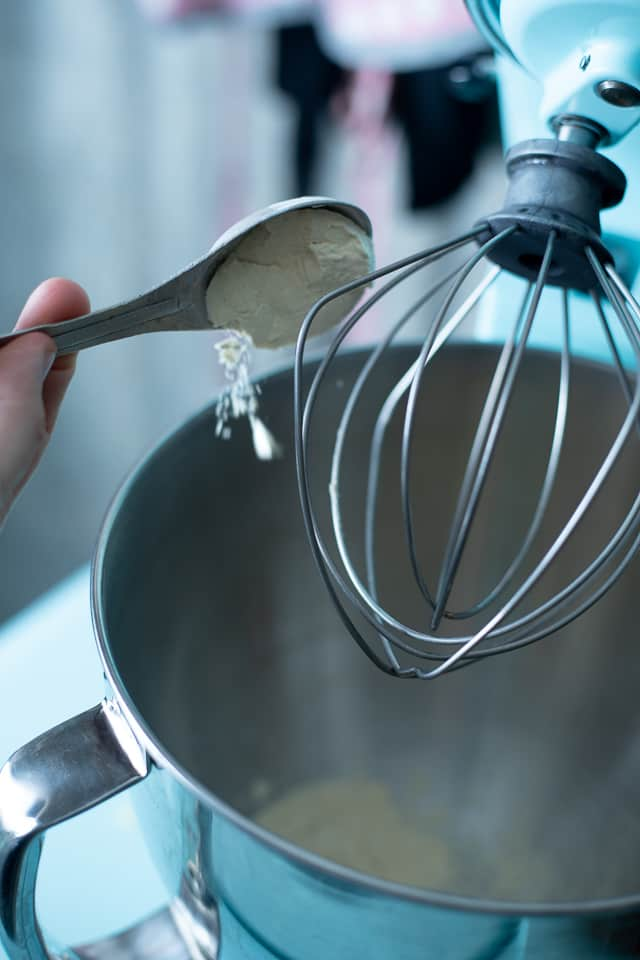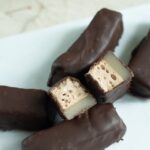 Vegan Mars Bar
This Vegan Mars Bar recipe (also known as Milky Way) is a real copycat where it is made with fluffy nougat and soft caramel, dipped in chocolate.
This recipe uses a soy protein-based meringue for fluffy nougat along with a rich coconut milk-based caramel.
Print Recipe
Ingredients
Meringue For Nougat
5

tbs

Soy Protein Powder

2

tsp

Baking Powder

1/4

tsp

Xanthan Gum

3/4

Cup

Cold Water
Hot Sugar For Nougat
3/4

Cup

Water

2

tbs

Agar Agar

2 1/4

Cup

Sugar

4

tbs

Cocoa Powder

1

tsp

Vanilla Extract
Chocolate
16

ounces

Chocolate

For Dipping
Instructions
Chocolate Nougat
Prepare a two-inch-deep pan by lining it with parchment paper, then rubbing the exterior of the paper with coconut oil.

Premeasure the Cocoa Powder and vanilla as you will need to add it quickly once it's required

Add everything in the Mergine for Nougat section to a stand mixer and run on high with the whisk attachment. Keep it running for at least 10 minutes while you heat up the sugar

Add the 3/4 cup water to a large heavy duty pot along with the 2 tbs of agar agar. Whisk it to prevent any clumps and bring to a boil

Add the sugar and gently stir in, try to avoid splashing on the sides of the pan. Using a candy thermometer bring the sugar mixture to 245F, this should take about 10 minutes

Take the pot off the heat and add in the coco powder and vanilla, mix well

While the stand mixer is running on high with the mergine, slowly pour in the hot sugar mixture. Turn off as soon as everything is mixed to prevent it from deflating

Pour the Nougat into the prepared pan and place in the refrigerator to set.

Wait an hour before starting the caramel
Coconut Milk Caramel
Add the coconut milk, oil, sugar, syrup, and salt to a large pot, gently stir trying to prevent any splashing

Using a wet pastry brush (a damp towel can work in a pinch), and wash the sides of the pan to prevent sugar crystals from building up on the sides. If those sugar crystals get into the caramel, it can alter the molecular structure of the sugar and make it gritty.

Bring the sugar mixture up to 250F, then take off heat and whisk in vanilla and cream of tartar

Pour the caramel over the nougat and refrigerate for 2 hours
Assembling Mars Bars
Take the candy out of the pan and cut it into 1 1/2 inch sized bars and place on a large sheet

Space the bars out so they aren't touching and put them in the freezer for at least 15 Minutes

Melt and temper your chocolate

Dip the bars into the chocolate using two forks, shaking off the excess, and set onto a baking sheet

Once all the bars are dipped place them in the fridge for the chocolate to set
Nutrition
Calories:

437

kcal

|

Carbohydrates:

77

g

|

Protein:

3

g

|

Fat:

17

g

|

Saturated Fat:

11

g

|

Polyunsaturated Fat:

1

g

|

Monounsaturated Fat:

4

g

|

Sodium:

381

mg

|

Potassium:

174

mg

|

Fiber:

2

g

|

Sugar:

73

g

|

Vitamin C:

1

mg

|

Calcium:

50

mg

|

Iron:

2

mg

By