These easy Pumpkin Spice Waffles are the perfect way to embrace fall for a sweet start to your day. This is an easy fall vegan breakfast that everyone will enjoy!
These Pumpkin Spice Waffles area tasty blend of savory sweet. There is no need to go out and buy a premixed spice blend for this recipe. It's made with simple staple spices like cinnamon, nutmeg, and cloves.
It is amazing paired with maple syrup, butter, some Fried Chicken of the Woods, or Kentucky Fried Hen of the Woods
Roast Your Own Pumpkin…
Or Use a Can?
I used a can of pumpkin purée to make these, but don't let that stop you from roasting your own pumpkin for this!
There is nothing more rewarding than roasting a fresh pumpkin in the autumn and baking or frying creations with it!
Even the tiny 'decorative' pumpkins can be roasted and cooked up. Roasting your own pumpkin is easy, but can be time consumptive.

I've found that deseeding and cleaning the inside of the pumpkins are the most time consumptive part. However, the little pumpkins don't have nearly as much filling making it not too bad of a process.
I had this happy little discovery when I noticed a squirrel started to eat one of my little pumpkins. I cut off the part he ate, scooped out the inside of the pumpkin. Then coated it in oil and roasted it in the oven.
I ended up stuffing my pumpkin with a quick wild rice stuffing since I was experimenting (I've never had a stuffed pumpkin before).
While that is a recipe I need to post and share with you, my point is roasting the pumpkin flesh was very simple!

If you want pumpkin puree simple blend up your cooked pumpkin flesh. I couldn't believe how easy it was and am totally doing it again.
I may have went overboard at the farmers market and bought a dozen mini pumpkins. I figured it's a compostable, zero waste way to decorate for Halloween! And it'll keep my squirrel neighbors happy.

I found these cooking methods helpful. When I stuffed the roasted pumpkin it was my very first time ever cooking a fresh pumpkin. I personally loved the stuffed pumpkin and am planning on trying it again on a bigger one!
Freshly roasted and pureed pumpkins for these pumpkin spice waffles is a serious game changer.
Pumpkins Are Loaded With Health Benifits
Pumpkins are a skin's best friend being loaded with beta carotene, or Vitamin A. That not only helps with skin health, but also helps prevent forms of cancer, helps slow down aging, and can help with hearth disease.
It's also loaded with potassium, which can help lower your blood pressure and help you de-bloat!
I also included flax meal, or flax seed powder in this recipe. It not only works are a binder for the batter, but it is loaded with omega 3 fatty acids. The main perks of omega 3s are a better mood, anti inflammatory perks, and helps your skin.

Chia Seed powder will work in place of the flax seed meal if you don't have it. However, you really want to grind up those chia seeds into a powder or your waffles will be crunchy from the seeds. The chia seed powder will also change the color of the waffles, making them darker.
Chia seeds similar health benefits to flax seeds with their high omega 3 content. Chia seeds are higher in fiber and are loaded with vitamin K than flax seeds. If you are content with the waffles being a little darker in color- give them a try!
Serving Ideas
I love these pumpkin spice waffles with a glass of hot chia tea or served up with some fried hen of the woods for some soul food.
They are also incredible with maple butter– it's maple syrup that's been churned into a cream. It spreads like frosting but the only ingredient is maple syrup. It's amazing on these waffles!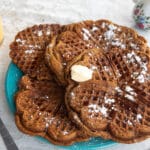 Pumpkin Spice Waffles
These Vegan Pumpkin Spice Waffles are destined to be a staple fall breakfast treat!
Print Recipe
Ingredients
Wet Mix
3

tbs

Water

1/2

cup

Pumpkin Purée

1 1/2

cup

Almond Milk
Instructions
Preheat your waffle iron

Add water to flax seed powder in a medium sized bowl- stir

Add your pumpkin puree, coconut oil, vanilla if you have it, and brown sugar 

In another small bowl or cup add your vinegar to the plant milk- let it curdle

Add curdled plant milk to the pumpkin mixture and stir

In another large bowl mix all you dry ingredients together, add your wet mix and stir to combine. Over mixing will make the waffles overly dense

Oil your waffle iron and pour a small amount of batter to fill the iron

Cook for 4-5 minutes, repeat until you've cooked all your batter

Serve with butter, maple syrup, maple butter, or jam
Notes
You can sub out the flax seed powder with chia seed powder for the same effect
Nutrition
Check out more of the latest posts..

Air Fryer Recipes Baking Recipes Breakfast Candy Recipes Chicken of the Woods Recipes Comfort Food Recipes Dip Recipes Drink Recipe Eco Friendly Lifestyle Fall Recipes Fried Recipes Gluten Free Recipes High Protein Recipes Instant Pot Recipes Late Summer Recipes Lobster Mushroom Recipes Low Calorie Maitake Recipes Mushroom Recipes Nut Free Oyster Mushroom Recipes Pasta Recipe Plant Based Seafood Recipes Sandwich Recipes Sauce Recipe sides snacks Soul Food Soup Soy Free Recipes Spring Recipes Stove Top Recipe Summer Recipe Sweet Recipe Tea Recipe Thanksgiving Vegan Recipes Winter Recipe Winter Recipes

By